USS ESTES AGC-12
USS ESTES ASSOCIATION HOME PAGE

George Brown

George Brown CS2 1952-1958 - - Submitted 4/25/06

My father was on the U.S.S. Estes during his career with the Navy. The dates of service were: July 1952 thru June 1958 He has a certificate in with his records showing he participated in Operation Castle in the winter of 1954. His name was George L. Brown , CS2, USN I would like to know if anyone remembers him. He passed away in June of 1977, and I am curious about that mission, with no one to ask. Thank you in advance for your time.
Carol Gentes
George Brown CS2 1952-1958 - - Submitted 1/7/07
Here is a picture I found today of the S-1 Division of the USS Estes in the spring of 1954. Thought you might enjoy. My father is top row 8th from the left.
I will send the pictures of Point Barrow as well, it has a date of 3. august 1953
Looks like the coast guard was there as well, at least it looks like a coast guard ship. The picture in the Galley is my father (the person in the distance). When I come across more, which I have some from Guam and the Marshall Islands as well, I will forward them off to you.
Enjoy
Carol Gentes
Daughter of George L. Brown CS2
Submitted by Carol Gentes for George Brown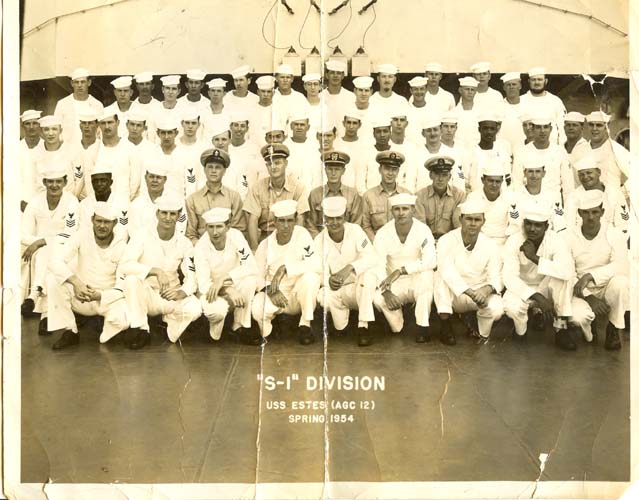 USS Estes S-1 Div - Spring 1954
Photo taken while on Saigon River
Submitted by Carol Gentes for George Brown
The following photos are dated August 3, 1953 at Point Barrow, Alaska
| | |
| --- | --- |
| USS Estes 1953 | USS Estes 1953 |
| USS Estes 1953 | |
| USS Summit County - LST 1146 1953 | USS Estes 1953 |
| Coast Guard Ice Breaker NorthWind W-282 | Alaskan Natives Watched Baseball Game 1953 |
| USS Electra AKA-4 | |
---
George Brown CS2 1952-1958 - - Submitted 1/30/07
The following e-mail was received by Carol Gentes from Mike Kerrigan
From: Mike Kerrigan
Date: 2007/01/11 Thu PM 09:51:32 CST
To: CAROL GENTES
Subject: Re: USS Estes
I was on the ship when we detonated the 5 H bombs at Eniwetok Islands as was your dad and of course we visited Bikini Island for business and another island where there were Japanese Zeros and ships left over and rotting from WW2. That was the only island that was used for recreation and it was called Japtan island. We couldn't drink on the ship so we went over there for our beers after bobbing in that lagoon for 4 months.
It was so hot that many of us slept on the deck just to get some breezes. The rain would come over during the night and wake us up. We ran inside until the squall was over. Just young kids learning about life a little at a time.
The second detonation surprised everyone and it took the whole island away. The ship turned for open sea and we ran but the cloud caught us and soaked us with radiation for about a week. All during that time the ship was being continuously sprayed with ocean water trying to get rid of the radiation. The natives on the island of Kwajalein got doused heavy and the Navy tried to cover that up but I think it eventually came out.
I was an electronics guy but when we got back to the lagoon they put us in teams no matter what you were and we had to go over to a ship they had purposely run thru the radiation to see if the special paint they developed would come off with a hose spray. It didn't work too well and we all got too much radiation from that event. We were only in the hot area for 30 seconds but it was so hot we all got a heavy dose. Your dad too I suspect. I think it was the cause of my cancer and almost caused me my life.
Your dad passed away a very young man. What caused his early demise? If you would like I will detail for you any part of the cruise you want to know more about.
When we got back in '54 from Vietnam we had a book made of the cruise. Mine was thrown out when we moved to Arizona in '98. I now wish I had kept it so you would have a picture of your dad. Everyone was in the pictures. If you have a picture I would like to see him and then I can positively tell you if we knew each other. until then take care of yourself.
Mike Kerrigan
---
George Brown CS2 1952-1958 - - Submitted 2/21/07
Submitted by Carol Gentes for George Brown
Navy News - Issue of October 1953
---
Officer's Pollywog Watch Bill
---
Letter Home
---
Return to Contributions Page
Return to USS Estes Association Home