USS ESTES AGC-12
USS ESTES ASSOCIATION HOME PAGE

Donald R Johnson

| | | |
| --- | --- | --- |
| 1944 | | 2006 |
Donald R. Johnson (Roger) and his wife Lorraine live in Bemidji. MN. They were married in the chapel on Treasure Island on 8 July 1944. Their first of three children, Rebecca, was born on April 6, 1945 while Roger was embarked in USS Estes in the Western Pacific. They have had two other children since that time; Vicki Lynn Johnson of Duluth, MN and Bud Johnson of Sedona, AZ.
---
Dear Shipmates:
My uncle is Donald R. (Bud) Johnson. His picture appears on the 1945 page of your web site. (http://www.ussestes.org/ShipInfo/History_in_Photos_1945.htm). My uncle passed away in his home in Bemidji, MN yesterday afternoon (Nov. 6, 2008). He was 87. He talked often of his service in USS Estes and displayed the Radio Tech Gang – May 26, 1945 photo with great pride in his home.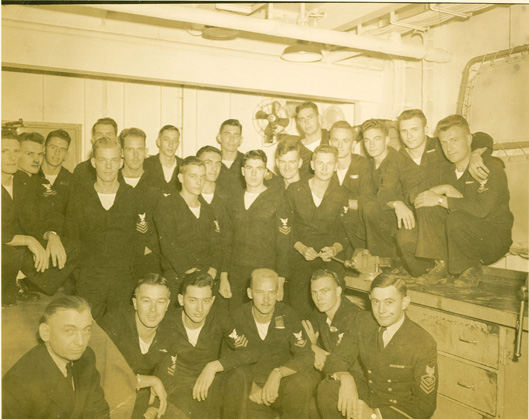 (He is crouching on the work bench forth from the right.) Thought you should know so you can update the site with that information.
John Njaa
USN (Airedale) ret
1956 - 1976
Return to Contributions Page
Return to USS Estes Association Home