USS ESTES AGC-12
USS ESTES ASSOCIATION HOME PAGE

Larry Morris

Larry Morris BM-3 1st Division 1961-1963 - - Submitted 12/28/06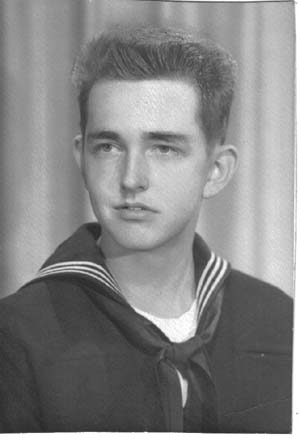 Larry's Navy Photo - 1959
Memories of Almost Going to the Atlantic
I served aboard the ESTES from 1961 thru 1963. Went to the Worlds Fair in Seattle. Also went to Portland, OR for the Rose Festival. Remember when we arrived there and unloaded the cars and everyone had just gone on shore/leave. Hadn't stopped sweating from unloading when JFK came on the ship's intercom announcing the Cuban Crisis. We started loading the ship back up with only 1/3 of the crew and headed back to San Diego to take on supplies and head for Cuba. Our sister ship, The Eldorado, beat us in by one day and had to go instead. Whew!
On our way to Pearl Harbor, I remember coming up on a Sailboat with Lee Quinn and his all girl crew. I thought the ship was going to capsize when a female crewmember of Quinn's asked "Is there anything we can do for you?". That would have been a good time for one to abandon ship - just a few days from Hawaii and to be rescued by an all girl crew of a small sailboat. Wish I had had a camera - if anyone has pictures, please share them.
I now live in Dallas, TX and sell business forms and office products.
HAPPY NEW YEAR,
Larry
Larry@MorrisBusinessProducts.com
---
Return to Contributions Page
Return to USS Estes Association Home