USS ESTES AGC-12
USS ESTES ASSOCIATION HOME PAGE

Robert Naramore Photos

Robert S. Naramore, ETM-2 - C Div - 45-46 - Submitted 5/28/07
Robert Naramore Collection:
Bob is doing well but his memory is slipping. He found an old scrap book with photos that were taken on the Estes in 45-46.
I am scanning them and sending them to you.
Chris Hanson
Robert S. Naramore 2007 - Age 83

Crew in China - 1946

Crew in China - 1946
Robert S. Naramore, ETM-2 - C Div - 45-46 - Submitted 9/7/05
Bob (Robert) Stevenson Naramore is going to be very excited to know his name will be added to the roster of the USS Estes.
One of the proudest achievements in Bobís life was his service on the USS Estes. Every Memorial and Veterans Day he puts his original Navy suit on; and attends the local services with the Elks and other civil organizations.
The Photo was taken for Bob by a Chinese Company while it was on the Wang Poo River in Shanghai.
---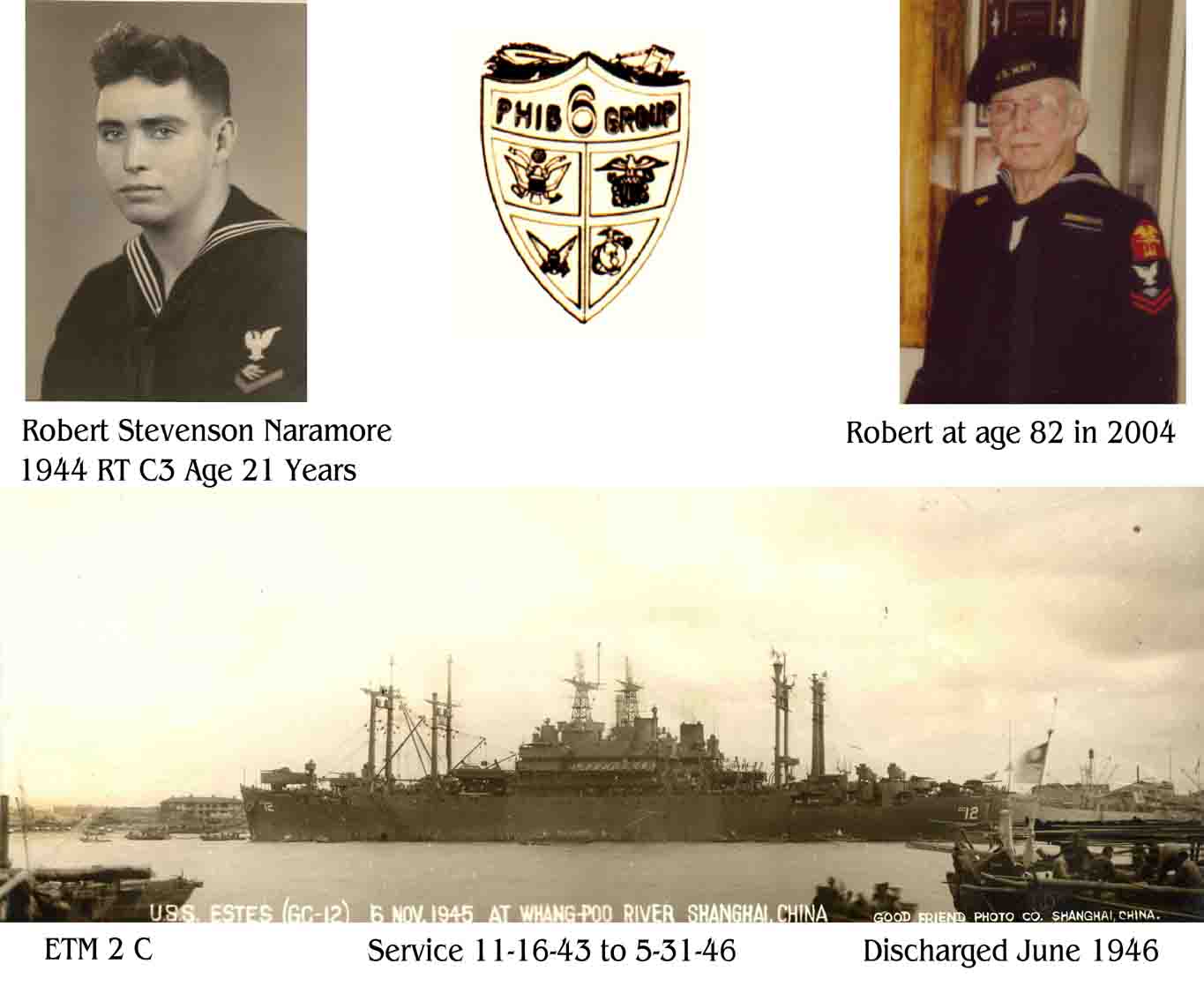 ---
Robert Naramore
131 E. Greystone Ave
Monrovia Ca. 91016
(626)358-8960
1944 RT-3T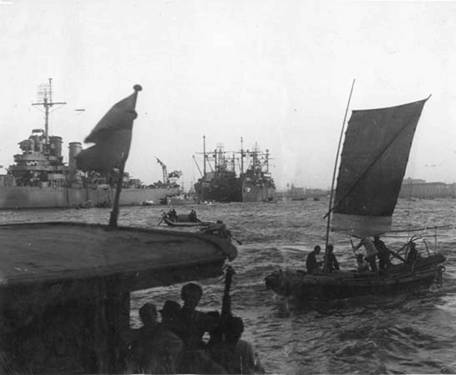 USS Rocky Mount (AGC-3) and USS Estes (AGC-12) - Nov. 1945
Robert S. Naramore, ETM-2 - C Div - 45-46 - Submitted 4/27/12
Hi,
We'd like to pass along the sad news of the passing of one of your own. Serviceman Robert S. Naramore died this week after a long and courageous battle with Alzheimer's disease. He was born August 13, 1923, served on the Estes from 1943-1946 and died on April 23, 2012.
His time on board was one of his most cherished memories, particularly his time in China and the Philippines. Bob went on to have a wonderful life. He graduated from the University of California- Berkley with a degree in Forestry. while studying in Yosemite National park, he met his future wife, married and had a daughter, Robyn. Bob loved forestry, later working at Mount Rushmore in the Black Hills. Later he left the service, returned to California, where he enjoyed trout and fly fishing as well as hiking the Eastern Sierra Mountain ranges.
He was fortunate he got to see the world and do all the things he wanted. Besides being an avid fisherman, he loved wood carving, gardening and traveling with family and friends. He is going to be sorely missed by all who loved him.
Sincerely,
Beth Walsh and Robyn Naramore
Return to Contributions Page
Return to USS Estes Association Home