USS ESTES AGC-12
USS ESTES ASSOCIATION HOME PAGE

Daniel O'Connell

Daniel O'Connell 1944-1945 - - Submitted 12/26/12

Please add my Dad's name to your shipmates list for the USS Estes. Daniel O'Connell - served under Admiral Blandy, 1944 - 45, from commissioning until after the second visit to the Philippines in late 45. He first boarded the Estes at the Brooklyn Navy Yard in October 1944.
Dad was from Brooklyn, NY and trained at Great Lakes.
I believe he was a plank owner, having served on her first tour, and was aboard at both Iwo Jima & Okinawa.
He piped ashore October 13, 1987.
He would frequently tell us of his days on the Estes, and after the war on the Salerno Bay, CVE 110.
He left the navy in 1947, married my mom in 50, and moved to Connecticut in 55. Mom is still aboard, but seems to have misplaced the few pictures I remember him having from the war.
I have attached one picture I have - he is the forth from the right in the top row. I also attached a copy of their itinerary from 44 - 45.
Thank you,
Daniel O'Connell (son)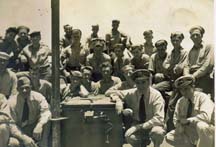 Daniel O'Connell
Top Row - 4th from Right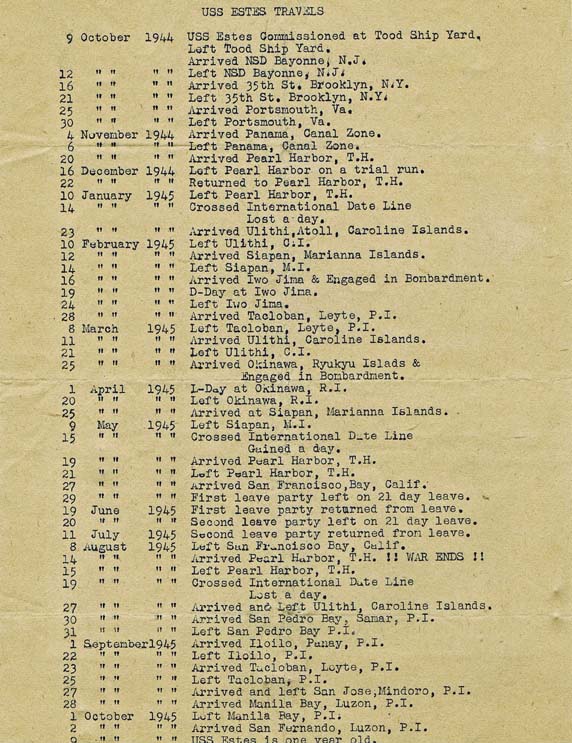 USS Estes Itinerary Oct 1944 - Oct 1945
---
Return to Contributions Page
Return to USS Estes Association Home