USS ESTES AGC-12
USS ESTES ASSOCIATION HOME PAGE

U.S.S. Estes AGC/LCC-12
Cruise Books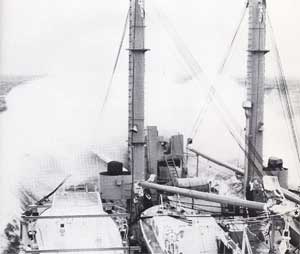 When viewing the Cruise Books - Click on the image of a page for a larger image!
Amphibious Group One
1951

Donated by
Susan Anderson

First Anniversary
1952

Donated by
Ed Bishop

Blue Nose
1953

Donated by
Richard Feidt

Far East
1954-1955

Donated by
Bill Boyd

Donated by
J. Keith Brady

Donated by
J. Keith Brady

Donated by
William Bowles

Donated by
Rich Cherry

Donated by
Richard Draves

Donated by
Charlie Porter
---
Have a Cruise Book you would like to share?
We prefer digital images, but can accept original books. Originals will be returned unless you indicate otherwise. We will make our best efforts in returning things safely, since we use public carriers to return items, i.e. US Postal Service, we cannot guarantee safe returns. We would feel more comfortable if you had the pages of your book scanned into high resolution digital images.
For details on how to send a Cruise Book - Click on a Ship
---