USS ESTES AGC-12
ESTES ASSOCIATION HOME PAGE
---
USS Estes Association Reunion 1987
---
1987
Cincinnati, Ohio
Hilton North
Host Ship USS Ancon AGC-4
U.S.S. Estes Association
Frank Brogan
Wallace & Betty Bender
Norm & Kay Carlson
Roy & Ethel Coffin
Harold & Lenore Cleaver
Clarence & Doris Clarke
Harold & Bernadine Hutchens
David & Irene Konshok
Leonard & Eleanor Rowson
Richard & Margaret Steenbergen
Harry & Lois Wenner
Noah & Jane Joyner
Donald & Clara Greiwe
Guest
Steve & Ann Timberlake
Chris & Stephanie Timberlake
(Daughter & Family of Noah & Jane Joyner)
** We wish to acknowledge the kind generosity of the USS Ancon reunion staff in
allowing us the priviledge of holding our first reunion utilizing their facility during
their 40th reunion.
A prior reunion for 1986 did not materialize due to lack of interest.
This reunion was to take place with another AGC former (AVP) USS Biscayne in San Antonio, TX.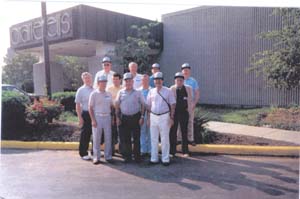 Shipmates:
Don Greiwe, Roy Coffin, Noah Joyner
Dick Steenbergen, Frank Brogan, Clarence Clarke
Harold Cleaver, Hod Hutchins, Wally Bender
Dave Konshok, Harry Wenner
---
USS Estes Association Reunion Info
Return to USS Estes Association Home