USS ESTES AGC-12
ESTES ASSOCIATION HOME PAGE
---
USS Estes Association Reunion 1998
---
U.S.S Estes AGC-12

12th Annual Reunion

54th Anniversary

October 21 - 25, 1998

Double Tree Suites

Tucson, Arizona

Celebrating To The Theme
of
"The Great West"

Guest Speaker
Capt. Jens B. Hansen, USN (Ret)
19th Commanding Officer
Captain Jens B. Hansen
WestPac Cruise 68
The only former commanding officer to attend a reunion at this date:
Capt. Hansen enlisted in the Navy in 1939 and served aboard the USS New York, BB-34 prior to entering the U.S. Naval Academy in 1941. He graduated from the Academy in 1944 and served aboard the carrier USS Hornet in the Asiatic-Pacific Theater during WWII. In 1947 he was designated a naval avaitor.
His operational experience in cludes tours in Patrol Squadron EIGHT, Air Transport Squadron TWENTY-TWO, Commanding Officer of Patrol Squadron TEN, and as Executive Officer of the amphibious transport TALLADEGA. He has attended Postgraduate School and the Naval War College. Capt. Hansen reported to ESTES from AWS Systems Project Office, Washington, DC, where he served as Director, Systems Analysis Group.
Note: After dinner, Capt. Hansen enlightened the group with a speech on his tour with the ESTES during one of its tours to Vietnam. After twenty-four years of duty in the Pacific the ship was soon ready for retirement.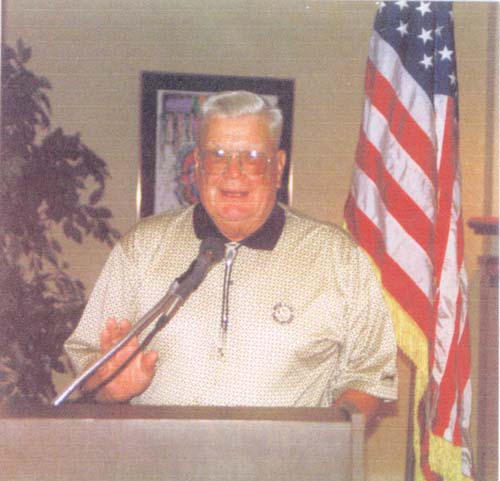 Oct. 24, 2004
---
USS Estes Association Reunion Info
Return to USS Estes Association Home