USS ESTES AGC-12
ESTES ASSOCIATION HOME PAGE
---
USS Estes Association Reunion 2003
---
USS Estes Association Reunion 2003 Report
---
USS Estes AGC/LCC-12
Amphibious Force Command Ship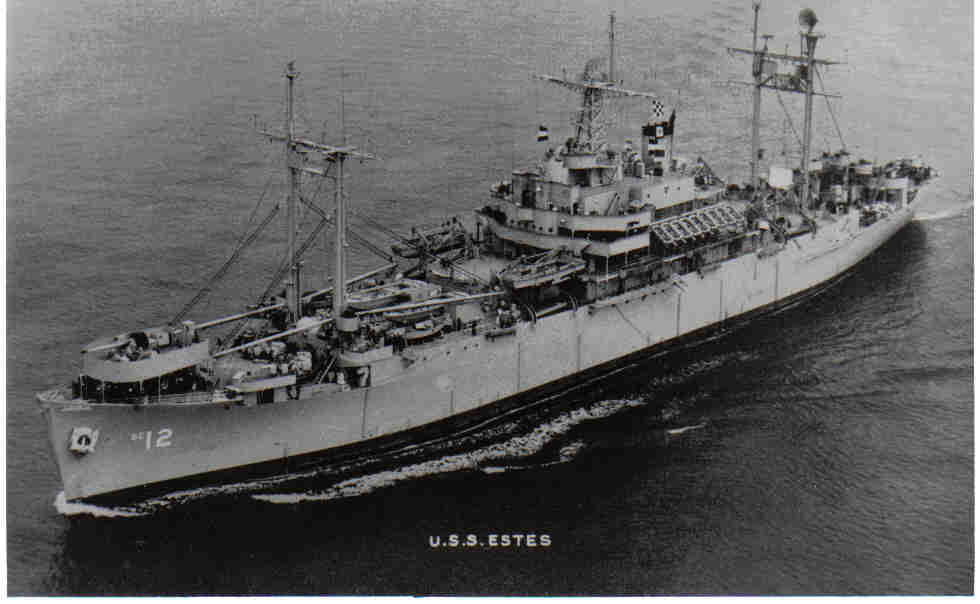 17th Annual Reunion
September 24th thru 27th, 2003
Sheraton Waterside Norfolk, VA
Commemorating the 50th Anniversary
Of the
Korean War July 27th, 2003
The U.S.S. Estes Association Welcomes You
God Bless America
---
The First Time: September 3rd:
On this day in 1777, the American flag was flown in battle for the first time, during a Revolutionary War skirmish at Gooch's Bridge, Maryland. Patriot General William Maxwell ordered the stars and stripes banner raised as a detachment of his infantry & calvary met an advance guard of British and Hessian troops. So for this special act we ask for your prayers for all our service members now in harms way, an for all of those brave men and women who have gone into battle under this flag to meet the enemies of this great nation.

GOD BLESS AMERICA
---
Wed: Sep 24/03:
Arrivals & Room Check-in begins 3:00pm

5:00pm Hospitality Room Opens
Located Cabana Room 1st Floor

Pick-up reunion packets and sign in
The Hospitality Room.

Your memorabilia should be displayed in
The Hospitality Room.

The Hospitality Room is "FREE" for your
Socializing, refreshments and enjoyment
Help us keep it clean.

10:30pm Hospitality Room Closes.
---
Thu: Sep 25/03:
9:00 - 10:30am: Hospitality Room Open

10:30 - 11:30am: On your own to make
your way to the far opposite end of the
Waterside Market Place where the Ship,
"Spirit of Norfolk" is tied up for boarding.

We will board the vessel as a group for
Noon luncheon and a two-hour cruise of
The local waterfront to include the Naval
Base.

The luncheon has been paid for so any
Refreshments or drinks you may have from
The bar along with gratuity is your responsibility.

2:00pm (approx): Return to pier and you are
on free time.

3:00 - 10:30pm: Hospitality Room is Open
---
Fri: Sep 26/03:
9:00 - 11:00am: Hospitality Room is open.

12:00 - 3:00pm - Claremont Room - 4th Floor
Luncheon and Business Meeting

After lunch the business meeting will be held
For the membership. All persons present for
The luncheon are invited to remain for the
Meeting should they so desire.

During this period we will also sell cash raffle
And gift raffle tickets, your choice.

If you have not acquired your gift for the raffle
This evening is a good time. There are some shops
Nearby in the Waterside Market Place.

5:00 - 10:30pm - Hospitality Room open.

Planned activities for the day will only take up part
Of the day - utilize the remainder in visiting the
Many other points of interest, many within walking
Distance.
---
Sat: Sep 27/03:
9:00 - 4:00pm Hospitality will remain open.
Please utilize this day to see those things you
Would like to see.

Please bring your gift raffle items to the
Hospitality Room during the day.

If you have memorabilia in the hospitality
Room, it is suggested you remove these items
Prior to 4:00pm.

6:00pm: Riverwalk Restaurant / First floor
Dinner/Buffet Dinning and Activities

Respects to Departed Shipmates & others.
Gift Raffle
Awards & Special Announcements
Cash Raffle
Entertainment & Socail Time.

Open time for audience remarks & comments.

11:00pm: Concludes Reunion 2003 Program.
Thank you all for attending.
---
Prior Reunions
| | |
| --- | --- |
| | 1987- Cincinati, Ohio |
| | 1988 - Louisville, Kentucky |
| | 1989 - Annapolis, Maryland |
| | 1990 - Estes Park, Colorado |
| | 1991 - Charleston, South Carolina |
| | 1992 - San Diego, California |
| | 1993 - Nashville, Tennessee |
| | 1994 - Newport, Rhode Island |
| | 1995 - Carnival Caribbean Cruise |
| | 1996 - Virginia Beach, Virginia |
| | 1997 - Biloxi, Mississippi |
| | 1998 - Tucson, Arizonia |
| | 1999 - Myrtle Beach, South Carolina |
| | 2000 - Reno, Nevada |
| | 2001 - Bloomington, Minnesota |
| | 2002 - Washington, DC |
---
With Appreciation
Capt. Wallace H. Bender, 01635566, US Army, Commanding Officer, Signal Detachment aboard the U.S.S. Estes, AGC-12: Is hereby recognized for his command and leadership duty during WWII operations at Iwo Jima and Okinawa during the period 1944 - 45, Pacific Theater of Operations. He is further awarded lifetime membership in this association.
Awarded September 27, 2003
The U.S.S. Estes Association (AGC/LCC-12)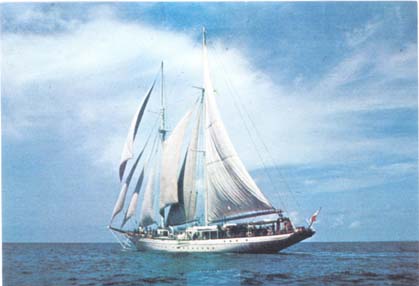 Barefoot Cruise
Shipmates: Noah Joyner & Paul Colins
Sailed this vessel in the Carribean for seven (7) days
1979
---
Korean War Service Statistics
| | Service | Number | Deaths |
| --- | --- | --- | --- |
| | Army | 1,153,000 | 27,731 |
| | Navy | 265,000 | 506 |
| | Air Force | 241,000 | 1,248 |
| | Marine Corps | 130,000 | 4,266 |
Deaths by year
| | Year | All Deaths | % of Total |
| --- | --- | --- | --- |
| | 1950 (6 mo) | 14,650 | 40% |
| | 1951 | 12,540 | 34% |
| | 1952 | 5,774 | 16% |
| | 1953 (7 mo) | 3,592 | 3% |
| | Total | 36,576 | |
---
USS Estes Association Reunion Info
Return to USS Estes Association Home