USS ESTES AGC-12
USS ESTES ASSOCIATION HOME PAGE
USS Estes History in Photos - 1958
Submitted by J. Keith Brady
J. Keith Brady ETR-2 1957-1960 - - Submitted 9/19/07

British Columbia Centenial Year 1958
USS Estes Pamphlet
British Columbia Centenial Invitation and Schedule
Photos taken at the Celebration
---
Robert A. Doerring, Sgt - USMC - 57-59 - Submitted 4/24/07


Submitted by Robert A. Doerring

Sgt Robert A. Doerring USMC. I served on the USS Estes AGC-12 from Jan-57 to Jan-59. I was a member of the USMC Communications Detachment. I am curious as to anyone who might have been on board in August of 1958 when we made the trip to Vancouver for the Centenial celebration of the Province of Britich Columbia.
---
Submitted by Charles A. Austin
Charles A. Austin RM-2 1958-1960 - - Submitted 9/25/06

I was a Radioman E5, OR Division, 1958 to 1960. I now live in Charlotte, NC.
Have been in the Realestate business since 1964.
Charles A. Austin
---
Submitted by Bill Pettett
Lawrence W. Pettett LtJG 1951-1953 - - Submitted 6/12/15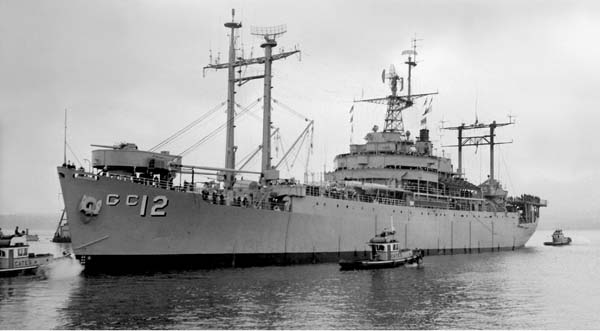 USS Estes - July 19, 1958
Leaving Victoria, British Columbia
---
Send any photos of the Estes, or life and times while aboard.
We prefer digital images, but can accept original photographs or documents. Originals will be returned unless you indicate otherwise. We will make our best efforts in returning things safely, since we use public carriers to return items, i.e. US Postal Service, we cannot guarantee safe returns. We would feel more comfortable if you had items scanned into digital images.
For details on how to send photos or info - Click on a Ship
---
Continue to 1959
Back to 1957
Return to History in Photos Index
Return to USS Estes Association Home