USS ESTES AGC-12
ESTES ASSOCIATION HOME PAGE
---
USS Estes Association Reunion 2004 Report
---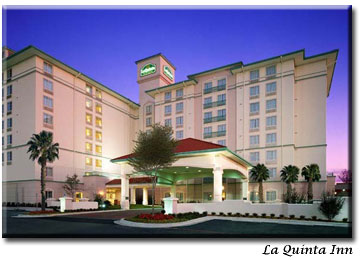 San Antonio, Texas
U.S.S. Estes AGC/LCC-12
November 11-14, 2004
Eighteenth Annual Reunion Report
---
LaQuinta Inn
San Antonio Airport
Wed. Nov 10: Arrival day and hospitality room set-up in Alamo Room East with coffee, soft drinks, beer, and assorted snack items. Memorabilia items were displayed for easy access, tables and chairs prepared with a welcome gift packet for everyone. Frank & Caroline Lance of Queen City, TX, our host, prepared the facility with charm. To cap off the greetings and re-acquainting of the years pizza was brought in for each to enjoy from Papa John's. Excitement went well into the evening before retirement into slumber.
Thu. Nov 11: A deluxe continental breakfast was enjoyed with many varied items (you know Texas does everything big). After breakfast our bus was loaded for our trip to Fredericksburg and the National Museum of the Pacific War. Admiral Nimitz State Historic Site. Leroy Johnson a retired Army Band bassoonist was our driver and acted as our tour guide. Both positions were well managed by Leroy. Barbara Lowd was the event director from Travel Leaders of Florida. She was most proficient and amicable. She and Leroy were a great team.
We toured parts of Fredricksburg and toured the museum till 11:00am at which time scheduled events took place. A welcome by Radm Grojean, speech by MG "Beau" Ellis, 19th Airforce and Col. Oliver North, (Ret.) USMC. All with a patriotic and dutiful theme to God and country were well received and applauded. A local school choir group sang appropriate songs for the event. A twent-one gun salute was rendered and a dual bugle of "Taps" was sounded. Our veterans from all wars were honored and remembered.
At 1:30pm the USS Estes Association members and guests present formed to conduct their primary reason for being there. The dedication of their ship's plaque which had been installed on the museum's commemerative wall. Shipmate Noah Joyner led off this event with a pledge of allegiance by its members, Veteran's Day remarks were delivered. A "Bell Memorial" ceremony was conducted by shipmates. Charles Brewer and Walt Craver, the deceased honored since the last re-union were honored. Benediction was then given by the association Chaplain Dick Steenbergen. The bugler sounded "Taps" to end our ceremony and retire to the wall for the unveiling of our plaque by shipmates Don Self and Barent Gibson. The viewing and phogographing ended our program. There was still ample time to shop and eat and visit the museum prior to our departure.
On the trip of our return, Leroy gave us a surprise detour after playing a few bars of Willie Nelson and the song of Lukenbach. If you have never been there you should go, a post office, general store and bar all in one building. Dance Hall across the street with a few motorcycles in the parking lot by their hitching post. Before leaving we made some purchases and did a group photo. Leroy filled us in on the history there and all the way home with his college of knowledge. Back in the hospitality room we all expounded on our blessings for such a wonderful "Veternas Day".
Fri. Nov 12: After breakfast we again loaded our bus for a tour of San Antonio. Our tour mainly involved the many missions in the area and at lunch time we did the IMAX theater area food court or surrounding area. We took a visit by the mission where Leroy grew up as an orphan, to learn music which later gave him his place in teh Army and the Army Band, where he played for presidents and at many historical occassions. Our tour of the "Alamo" occured after the film at the IMAX, "Alamo the Price of Freedom." San Fernando Cathedral was very beautiful and we spent time taking pictures. Inside the entrance, the ashes of Travis, Crockett, Bowie & others are kept in a marble crypt. We also did a visit of "El Mercado" the market for a shopping stop. A search was on for a lost shipmate (no name) last seen at the Alamo. After a fruitless search he was found back at the hotel. Leroy led the search and the sailor's wife reminded us of the fate that may potentially befall him. We heard no cries for mercy into the night, "All is well."
Sat. Nov 13: After breakfast we had some free time and we utilized this for more hospitality and comparing notes on our previous day which we felt sure couldn't be matched. At this point our members had acquainted themselves as to be paired off to others for some great conversation.
We were happy to see some new comers that had joined us at the end of last evening. They were Nick and Sondra Nichols of Houston, TX; Bill & LaVeta McGary of Texas City, TX; and Bob Marilouis Stout of Edinburg, TX.
12:00 - 1:00pm - Buffet Deli Lunch was served in the hotel. Rev. Alvin Crooks rendered our blessing and two lunch lines swept past the bar in a flash. The caterer did a splendid job on food because there was plenty for everyone.
After lunch everyone assembled in our hospitality room to conduct a business meeting. After some welcome and opening remarks by Frank and Caroline Lance; Frank asked Noah to take the floor for the remainder of the session. The general concept of our association was discussed. Noah expressed a desire to keep it as is for at least 2005. All new comers were again greeted and applauded. Reunion 2005 was discussed by accepting proposals from the members. Dick & Clara Hilgert gave their proposal for Newark, OH, Oct 5-8, 2005. Noah Joyner proposed one for Branson, MO. Dates to be announced. Our reunion program director, Barbara Lowd of Travel Leaders of Florida offered an Ocean Cruise already planned for the USS Rock Mount, AGC-3. This would not impact our proposals unless dates conflicted. Any member may join them at their cruise price, which is great for a five day cruise. After motions, seconds and votes were cast. Dick & Clara for Ohio for 2005 was first. Branson came in second for 2006 and the cruise was left open at individual discretion.
The cash raffle was conducted by placing the tickets into Rose Mehelic's cowboy hat. The first time attendees were asked to draw the names. Harry Wenner, Dave Konshok, Walt Craver & Walt Harrington were lucky this time. A couple of gifts donated by Joann Brewer were further drawn, winners were Horace Bowden and Don Self. Barent Gibson received a 12x14 Estes picture donated by Noah Joyner and Carolyn donated a gift bag with plate and stand. Plate was painted w/ flowers and USS Estes Reunion 2004 over a map of Texas.
A surprise came when Bill & LaVeta McGary came forward to entertain the group. Bill was on guitar and they both sang. After mentioning to LaVeta that she had sung for us in Estes Park, CO in 1990 prior to their departure to Pakistan. Bill had gone next door to Wal-Mart and purchased a guitar. Their songs were wonderful and we were all enlightened.
Our meeting ended with a sense of accomplishment of a job well done. Everyone was invited for a return next year. Rich Cherry was asked, and accepted, the task of setting up an Estes Web Site on the internet, if you have anything you wish to see there, contact Rich.
At 4:00pm we met in the loby to be transfered downtown to the Casa Rio Restaurant, also our departure site for a scheduled river boat ride through the city. The boat ride was first since rain was imminent and it did, never saw so many umbrellas. Damp, but not discouraged, ask Tony. After the ride we were escorted into the restaurant. Our dinner was Mexican dishes of many courses with like drinks. We were treated to a Mariachi musical trio. Our oldest member was seen enjoying this part of the program, Millie Kirk (91), Tony's sister from Alabama. Rose, Tony's wife, did a solo number with the Mariachi fellows, which was well received by the audience. After dinner we were transported back to our hotel.
What has been iterated here is strictly from memory as no notes were kept, after all we were at the reunion and also on vacation. We ask that those that were there and took pictures to please send us their extras as we would love to have an album for our hospitality room in 2005.
Attending The Reunion
Frank & Carolyn Lance (Host), Queen City, Texas
Noah Joyner, Weldon, North Carolina
Richard Steenbergen, Wyoming, Michigan (Grand Rapids)
Murray & Marion Borenstein, Lakewood, New Jersey
Horace & Jackie Bowden, Big Springs, Texas
Charles & Joann Brewer, Louisville, Kentucky
Walt & Nancy Craver, Clemmons, North Carolina
Rich Cherry, Austin, Texas
Ray & Evelyn Cordova, Rainsville, New Mexico
Rev. Alvin & Dorris Crooks, Seneca, South Carolina
Frank & Donna Doyle, Ocean City, New Jersey
Fred & Dorothy DeFields, Charleston, Missouri
Richard & Clara Hilgert, Dunedin, Florida
Dick Hogan, Newton, Kansas
David & Irene Konshok, Park Rapids, Minnesota
Bill & LaVeta McGary, Texas City, Texas
Tony & Rose Mihelic, Virginia Beach, Virginia
Millie Kirk, Alabama (Tony's sister)
Don & Marilouis Stout, Edinburg, Texas
Harry & Lois Wenner, St. Cloud, Minnesota
Barent Gibson & Norma Oliver, Brownwood, Texas
Nick & Sondra Nichols, Houston, Texas
Richard Draves, Rhinebeck, New York
Non-Member:
Barbara Lowd: Reunion Program Director, Coral Gables, Florida
Leroy Johnson: Bus Driver and Tour Guide
Vote of Thanks and Appreciation From The Staff
We take this opportunity to thank those attending this reunion. It was a pleasure to have those above conducting themselves with attention and dedication, our job was carried out with pleasure and ease.

Barbara Lowd
Frank & Carolyn Lance
Leroy Johnson
Noah Joyner
Dick Steenbergen
For Your Information
Those interested in getting in on a 5-day ocean cruise at low cost with USS Rocky Mount, AGC-3 during their reunion. You are invited to join them. For information please call: Barbara Lowd at (800) 448-7058 Ext-298, she will give you all the details.
USS ESTES 2005 Reunion
Contact:
Dick or Clara Hilgert (727) 736-0604
783 Lakeside Drive
Dunedin,Florida 34698-4347
(or)
Jane Sinon (740) 668-7825
2581 Martinsburg Road
Utica, Ohio 43080
Everyone on our ship's roster who desires or has ever shown an interest in attending the ship's reunion will receive the necessary paperwork to register.
Visit USS Estes Association Re-Union 2005 On-line!
Reunion Policy Change
Our hospitality room operated this year without any alcohol. This freed us of the responsibility and restrictions it is sometimes met at various hotels. We suggest and are neutral on the matter, that if you care to have alcohol please do so under the provisions of our reunion establishment. Our hospitality has always been free and this will also save money for other activities. We hope this receives approval from everyone.
USS Estes Internet Web Site
We need a web site and someone to maintain it. We have plenty of material to initiate a substantial site. We have asked, and he has agreed, Rich Cherry, of Austin, is organizing this site. If you have items that you would like to donate please send them to him. A site that I had previously worked on without too much success will be closed down. Those of you with computers will be able to log on and get the current Estes Info.
Membership & 50/50 Raffle
Funds derived from these two items along with the reunion gift raffle insures that we have enough money to maintain a free well stocked hospitality plus any monetary items that we face without notice. Please keep these items current prior to attending the reunion.
USS Estes Association Reunion 2004
USS Estes Association Reunion Info
Return to USS Estes Association Home