USS ESTES AGC-12
USS ESTES ASSOCIATION HOME PAGE
---
USS Estes Association Reunion 2005
---
Reunion Package
Program Schedule
Contact Info
Points of Interest
More Information
Registration Form
Reunion Report
USS Estes 2005 Reunion ScrapBook
---

USS Estes
Association
Reunion 2005
Heartland of Ohio
October 5-8, 2005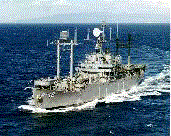 "The Elegant Lady"
U.S.S. Estes AGC-12
Estes was the seventh in the U.S.S. Mount McKinley amphibious force class designed to command, coordinate and conduct all elements, air surface bombardment, under water demolition, mine warfare and troop landing operation required to dig the enemy from their strongholds.
She operated in the Pacific and Far East from
Nov. 1944 to Oct 1969.
"Dedicated To"
Edward H. Dreier, 805-20-26, Pharmacist Mate First Class, Age: 95
Died: Oct 8, 2005, Rochester, NY
WWII

The Place Off the Square
Package Price includes:
4 night hotel accomodations
Deluxe continental breakfast
Lunch Thursday
Lunch & Dinner Friday
Dinner Saturday
Longaberger Basket® per couple
Bus Transportation Thursday & Friday events

A Hospitality Room will be available to us during your stay.

($350.00 per person based on double occupancy. Single occupancy add $200.)

Any accomodation before October 5th & after October 8th are strictly the individual's responsibility.

Shuttle from & to airport will be an additional $26.00 per couple. Transportation times will vary.

***Deposit & Registration form:
$100 deposit per person due by June 1, 2005
Final payment due August 1, 2005

Cancellation / Refund:
70 or more Days - No charge
69 - 31 Days - Deposit amount
30 - 8 Days - 50% of Total price
7 or less Days - No refund
---
Wednesday, October 5
Check into hotel
On your own
Pizza (Noah Joyner will be in charge)
Thursday, October 6
Depart hotel 7:45am
Tour Amish Country & surrounding area
Lunch
Shopping will be available at your destinations

Return to hotel (approx. 6-6:30 p.m.)
Dinner on your own

Friday, October 7

Depart hotel 9:15am
Longaberger® Tour

Corporate office (depart 10:00)
Homestead Take Trolly to Bldg. "B" for production
Boxed Lunch
Shopping in Dresden (depart approx. 5:45-6:00 p.m.)
Miller's Essenplatz dinner
Saturday, October 8

On your own
Group dinner at 6:30 p.m.
The Place off the Square Café Restaurant
---
Contact Information

*** Make check or Money order payable to:

Jane Sinon
Independent Longaberger® Sales Coordinator
2581 Martinsburg Road
Utica, OH 43080

Home #: 740-668-7825
Fax #: 740-364-1947


E-mail: Looking4Sunshine2@yahoo.com (Please Note: Use a Subject of "Estes Reunion")

Due to the fact that a limited amount of resrved rooms are available, hotel and dining locations along with total price are subject to change. The change will depend upon an overwhelming response to this event.
---
The Works

Interactive exhibits on history, science, industry & technology. Watch glass blowers working at their craft. 740-349-9277

The Dawes Arboretum

Nature Park 740-323-2355

William C. Kraner Nature Center

740-323-0520

Moundbuilders State Memorial & Ohio Indian Art Museum

Architectural sophistication of the Hopewell Indians 740-344-1920

Newark Earthworks

740-344-1920

National Heisey Glass Museum

740-345-2932

Robbins Hunter Museum, Avery Downer House

740-587-0430

Sherwood-Davidson House Museum

Finest examples of federal architecture in the Ohio Valley 740-345-4898

Veterans Walk of Honor

740-349-6727

Webb House Museum

Home built 1907 by Frank Camden Webb for his bride 740-345-8540

Ye Olde Mill

Ice Cream 740-892-3921

Bike Path

biking & walking paths

Davis-Shai House

Built 1861, this beautiful Gothic home is an elegant Licking County cultural arts center 740-788-8942

Granville Life-Style Museum

H.D. Robinson House; The late Victorian, red-brick house listed on the National Register of Historic Places remains furnished in the life-style of Hubert & Oese Robinson from the time they moved into the house in 1918 until their deaths. 740-587-0373
---
USS Estes Association Reunion Info
Return to USS Estes Association Home