USS ESTES AGC-12
USS ESTES ASSOCIATION HOME PAGE
USS Estes History in Photos - 1944
USS Estes was commissioned on October 9, 1944.
From the Official History of USS Estes
Invitation to Commissioning Ceremoniy
Commissioning Address by Capt. Bob O. Evans, USN
Commissioning Ceremony on October 9, 1944
Submitted by Norman Lindenberg ETC
---
Submitted by William A. Wise ETM-2
William A. Wise ETM-2 1943-1945 - - Submitted 11/30/07

I was aboard for the Commissioning Ceremonies.
The ship was behind schedule in it's construction at Brooklyn. Immediately after it was determined to be sea-worthy, we had the Commissioning and within 24 hours we headed for the Panama Canal and Hawaii.
A few days out and the weather got rough, the radar went out. The technicians were summoned, but nothing that was done would bring the radar back into operation. About daybreak, someone suggested checking outside. Once outside the, problem was apparent. The 'bed-spring' radar antenna was missing!
When it was installed, it had not been bolted tightly, and in the rough seas it broke loose and went overboard. Fortunately no one was injured, or even noticed it go.
The ship turned around and went into Norfolk for repairs, where another antenna was taken from another ship.
William A. Wise
---
At Iwo Jima, we had taken a beating, so returned to San Francisco for repairs. We were there for 42 days.
When we left the shipyard, there were men from the shipyard aboard, as many of the pieces of equipment were not functioning. After 48 hours, one of the workers claimed to finally understand what had happened. A worker at the shipyard, who had installed the equipment, was color-blind.
They then rewired (according to the color-code) the equipment and things started to work.
William A. Wise
---
Joseph Julian Dennis, WO-1 - - 44-45 - Submitted 3/22/07
I would like to submit the following information on behalf of my father, who is now deceased. Dennis, Joseph Julian, WO-1, aboard 1944-1945, present for actions at Iwo Jima and Okinawa. My father has recorded his experiences aboard the USS Dixie and the USS Estes, which ships crossed paths after an accident in which Estes was damaged in the bow. Repairs were effected by the crew of his former ship, the Dixie. My father is now deceased (Feb 2000).
Thank you.
Dale Jay Dennis
---
Robert F. Dorton, Jr. Lieut. JG 1943-1945 - - Submitted 7/25/06

Recollections of the Estes
My father Robert F. Dorton Jr. served on the Estes during WW II as Lt.Jg. under the command of Admiral Blandy. I have many memory's of dads sea stories. being mesmorized by his emotions and feeling the war come to life. He loved sailing aboard her. I still have his uniform and navy winter coat. Please add dad to your roster, he passed in 1983. Served from 1943-45. Thank you.
Robert Dorton
---
Submitted by William F. Banfield, III for William F. Banfield, Jr.
William F. Banfield, Jr RD 1944-1945 - - Submitted 8/21/07

I have pictures of my dad in uniform, several pictures of the crew and a "Commemorating First Anniversary" USS ESTES AGC-12) program, which you already have on your web site. I'll attempt to send you what I have. I have my father's dog tags, which read "WILLIAM FRANK JR. BANFIELD 898-51-58 T5/44TYPEA USNR-SV P". My father was born 01/25/07 in Sayre, PA and passed away 02/21/91 in San Antonio, TX.
Many thanks.
William F. Banfield III
williambanfieldiii@yahoo.com
William F. Banfield, Jr RD 1944-1945 - - Submitted 8/18/07

I am William F. Banfield III and a San Antonio, Texas Police Officer. My father, William F. Banfield Jr. served on the U.S.S. Estes as a radar operator during World War II, 1944 to 45 and was involved in the invasions of Iwo Jima and Okinawa. I do not know his rank as I am not familiar with U.S. Naval rank. I do have pictures of him in uniform and his shoulder patches. I would love to get a roster from that time showing my father's name. I also understand that the "History Channel" on cable or dish has run a piece on the history of the U.S.S. Estes, which I would love to get. Any help in these areas would be appreciated.
My e-mail address is williambanfieldiii@yahoo.com. Home phone (830) 885 5424.
Sinicerely,
William "Bill" Banfield III
---
Submitted by Richard Long for Robert G. Long
Long Robert G, Lt JG - Map Reproduction - 1944-1946 - - Submitted 3/15/07
Please add my Dad to your roster of USS Estes crew. He has great memories of service aboard her from late 1944 until early in 1946.

Thanks
Richard Long


Name: Robert G. Long
Rank: Lt. j.g.
Division: Map reproduction
Years of service: 1944-1946
Lives in Knoxville, TN (2007)
Contact: Son - richard.long@wmich.edu
---
Submitted by Thane E. Benson for Ens. Richard Benson
Richard S. Benson Lieut 1944-1946 - - Submitted 4/23/11
Dear Sirs,
My sister, Diane, submitted notice of our Dad's death but his years aboard are in error. I see from the ship's history that the Estes was not acquired by the Navy until 1944. Though Dad enlisted in 1942 and was involved with the Estes prior to her commissioning, he was not involved until after her delivery from North Carolina to Brooklyn. Thus, his service with the Estes began in 1944, not 1943. I have confirmed this with my Mom. Sorry for the confusion.
Dad spoke much of the Reserve Officer's school in Brooklyn and outfitting. That included bringing the ship to Bayonne for which the mast had to be taken down to clear the bridge. Dad was instrumental in installation of the Estes' radar, for which he had been trained at MIT/Harvard by the Navy. He also spoke of transiting the Panama Canal.
Of events in the Pacific Dad spoke little. One memorable anecdote was about taking soundings in a Korean harbor, after the Japanese surrender. It was Christmas time, Dad was out in a small skiff, and through some snafu, with hardly any clothes! He said there were still Marines battling ashore. Was there some notion that an invasion might still be necessary?
This is a part of the war about which the public knows little.
The attachments are a yearbook page from the Midshipman's School in Brooklyn (pdf) and a picture of a young Ensign Benson shortly after enlisting.
At his final hours we were given some inkling of why Dad didn't speak about most of his service: He had a flash-back while my Mom and brother were in his hospital room. It was terrifying, with incoming. This is what the brave men of the Estes endured for our freedom, and Dad remembered Her to the end.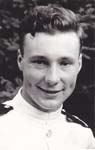 Ens. Richard Benson
Page from Midshipman's School in Brooklyn
Sincerely,
Thane E. Benson
162A Waverly Road
North Andover, MA 01845
---
Submitted by Thomas DeBenedetto for John DeBenedetto
John J. DeBenedetto 1944-1946 - - Submitted 2/1/12
My Dad, John J. DeBenedetto, served on the USS Estes in World War II in 1944 and 1945. He passed away on Jan 25, 2008 at the age of 88.
I have scanned many of the items from his scrapbook.
Thank you,
Tom DeBenedetto
Boot Camp - Sampson, NY

Draft Classification Cards

Field Services at Sampson

Graduation at Sampson, NY

John J. DeBenedetto

Commissioning
October 9, 1944

Invitation to Commissioning

Commissioning Photo

Aircraft Descriptions

Map of Luzon, PI

Military Courtesy

Golden Dragon

Japanese Money - Front

Japanese Money - Back

Philippines Money - Front

Philippines Money - Back

John J, DeBenedetto & Friends

Uncle Dutchin & John DeBenedetto

John J, DeBenedetto & Friends

John J, DeBenedetto & Friend

Life Aboard Ship

Division Photo

Division Photo

Prayer Service

Division Photo

Division Photo

Shipboard Regulations

Shipboard Regulations

Softball Scores

Telephone Directory

Thanksgiving 1944

Thanksgiving Menu

Thanksgiving Menu

Ship's Party

Religious Services

Religious Services
---
Submitted by Devaughn Little for Charles Arthur Little
Charles Arthur Little 1944-1945 - Cox - Submitted 5/28/17
My Grandfather was aboard the USS Estes from it's commissioning 10/9/1944 until 11/1/1945.
His name: Charles Arthur Little
Rating: Cox
My email: dbittle@cpimsp.com
Thank you very much.
Devaughn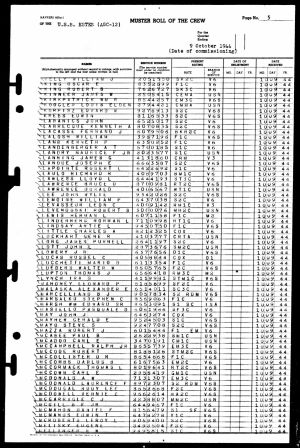 1944 Crew Muster Page
---
---
Send any photos of the Estes, or life and times while aboard.
We prefer digital images, but can accept original photographs or documents. Originals will be returned unless you indicate otherwise. We will make our best efforts in returning things safely, since we use public carriers to return items, i.e. US Postal Service, we cannot guarantee safe returns. We would feel more comfortable if you had items scanned into digital images.
For details on how to send photos or info - Click on a Ship
---
Continue to 1945
Return to History in Photos Index
Return to USS Estes Association Home