USS ESTES AGC-12
USS ESTES ASSOCIATION HOME PAGE
USS Estes History in Photos - 1945
First Hostile Fire on February 17, 1945
Submitted by Noah Joyner SM3C
8-12 watch, signal bridge, 2/17/45, Iwo Jima. Starboard duty station. First hostile fire received by the Estes since her arrival into the Pacific.
0850 hrs Fire from Iwo Jima falling short 400 yds broad on port bow.
0916 hrs drew fire from shore close under bow and stern.
0918 hrs Traylor, Robert R S1c (337-79-27) USN and Clampitt, Howard H, S2c (581-08-96) USN sustained shrapnel wounds.
0924 hrs. commenced firing main battery at enemy "pillbox" fortification, southeast side of Iwo.
0930 hrs ceased firing having expended (9) rounds 5"38 cal AAC,
1050 hrs drew fire from beach, receiving shrapnel hits on starboard quarter.
1056 hrs. observed underwater demo teams approach the shore to carry out assigned mission.
1100 hrs USS Pensacola observed afire from shore bombardment off east end of Iwo.
During the above action I was covered by steel helmet and hunkered down behind bridge protective plating (all 1/2").
---
Submitted by Donald R. Johnson
| | | |
| --- | --- | --- |
| 1944 | | 2006 |
Donald R. Johnson (Roger) and his wife Lorraine live in Bemidji. MN. They were married in the chapel on Treasure Island on 8 July 1944. Their first of three children, Rebecca, was born on April 6, 1945 while Roger was embarked in USS Estes in the Western Pacific. They have had two other children since that time; Vicki Lynn Johnson of Duluth, MN and Bud Johnson of Sedona, AZ.
---
Dear Shipmates:
My uncle is Donald R. (Bud) Johnson. His picture appears on the 1945 page of your web site. He passed away in his home in Bemidji, MN yesterday afternoon (Nov. 6, 2008). He was 87. He talked often of his service in USS Estes and displayed the Radio Tech Gang – May 26, 1945 photo with great pride in his home.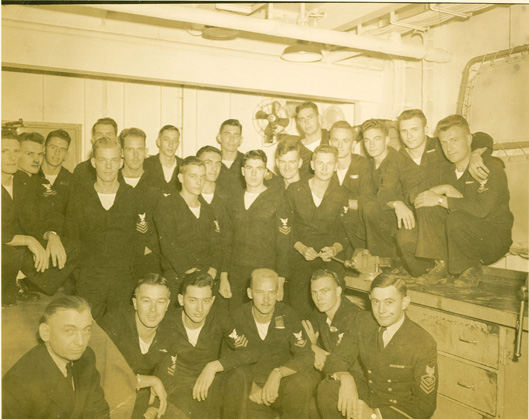 (He is crouching on the work bench forth from the right.) Thought you should know so you can update the site with that information.
John Njaa
USN (Airedale) ret
1956 - 1976
---
Submitted by Norman Lindenberg
Norman Lindenberg ETC Communications & Electronics 1944-1946 - - Submitted 4/28/06

I guess there is just so much that can be done with the ship itself, though I see from the pictures that there were a lot of changes in the original radar. We had an SG-1 surface search radar on the forward, starboard kingpost and another on the center patform, along with an SK, bedspring, air search radar, and a height finder antenna on the aft, starboard kingpost. I climbed all of them many times. Our SK air search radar went down the night before we went into Iwo Jima and I spent all night getting it back up. Fortunately everything was operational when we closed on the island that morning..
Something else that you may already have considered. The Estes is mentioned in a number of books about WW II. One that comes to mind is "Iwo Jima" by Richard Newcomb. They are just brief references but should be of interest to anyone who was there.
If you can find a description of the action when the frogmen went in to clear the underwater obstructions off the landing beaches and the shore batteries opened up on them, it would make interesting reading. The Navy lost sailors there. The Estes took casualties aboard and the corridor outside the hospital area literally ran red with blood. There were stretchers in the passageways of officers' country with bodies waiting for burial at sea.
Oddly enough, after the war, I discovered that a fellow college student was one of those frogmen who survived.
The same book describes the night the Bismark Sea went down. We could see one glow on the horizon, where she was burning, and another glow where the Saratoga was burning. The Saratoga had planes up with nowhere to land but eventually got her fires under control and sent out a spine chilling message that the Saratoga was ready to land her aircraft. In spite of the fact that it made her a target for any Jap planes that were still in the area, the Saratoga lit up and landed her aircraft. There were a a number of pilots up there who breathed easier when they realized that they would not have to ditch in the sea after all.
These incidents did not involve the Estes directly but everyone was in the soup together and there was a lot of shared empathy at the time.
Norm
Norman Lindenberg ETC Communications & Electronics 1944-1946 - - Submitted 4/27/06

Refering to the 2 photos:
The Shop - 1945

ET Shop - 1966

Two Photos - Same corner - 21 years apart
It probably was the same "ET Shop". At that time, the ET rating was relatively new to the Navy. Most of the ET's aboard were involved with maintaining the radio transmitters, receivers, teletype, multiplexing and other communications equipment of the ship. Bruce Lawrence and I were responsible for maintaining all the radar equipment, except for the fire control radar that was maintained by the gunnery department. However, administratively, all the ET's were in the same department. I may be misremembering but all I recall it being called among the ET's was "the shop". I quess other crew members thought of it as the ET (or radio) shop.
As I remember, there were doors on the opposite ends of the shop. As you entered one of these doors, to the right there was a small, closed off room in which the morely highly classified equipment was worked on.
Regards,
Norm
---
May 26, 1945
Submitted by Norman Lindenberg ETC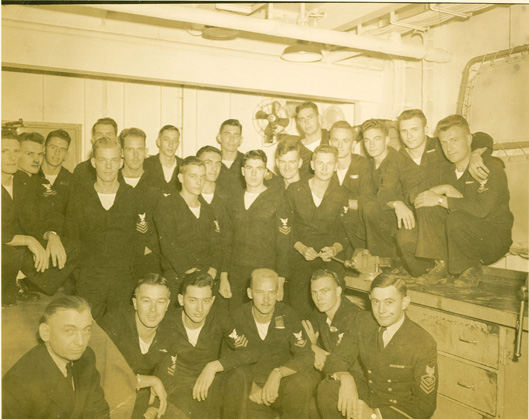 Radio Tech Gang - May 26, 1945
Somewhere in the Pacific Ocean
Estes Radio Tech Gang Names - May 26, 1945

Bruce "Larry" Lawrence *
Thomas "Red" Mc Cormack *
Albert H. Falk, Jr.
Robert C. Pierce
David G. Williams
Harry M. Wenner *
Roy S. Dimond
G.O. LeBrun
Louis Schweitzer *
Walace E. Nelson
Robert S. Naramore
Dave R. Lockhart *
D. R. Johnson "Bud"
M. K. Johnsen "Keith"
W. M. Timm
R. L. Norquist "Rod" *
Ed Simpson "Simp"
Wink Winkler *
R. E. Trobridge *
Mike Dudas *
Bill Wise *
J. K. Nielsen *

* Denotes Commissioning Crew
---
October 9, 1945
Submitted by Norman Lindenberg ETC
In celebration of the 1st anniversary of the Commissioning of the USS Estes, the following menu was issued. The ship is believed to have been in the Philippines at the time.
October 9, 1945
San Fernando, Luzon
Lingayengulf
Philippine Islands

D.R. Johnson
Bob Pierce
M.F.L. Stewart, Jr.
R.S. Dimond
E.O.Simpson
R.K. Swanson
Dick Preall
"MK" Johnsen
W.R. House
R.S. Naramore
T.L. Mc Cormack "Red"
Dave Williams "Cadge"
Al Falk
---
Estes at Shanghai - November 6, 1945
Submitted by Norman Lindenberg ETC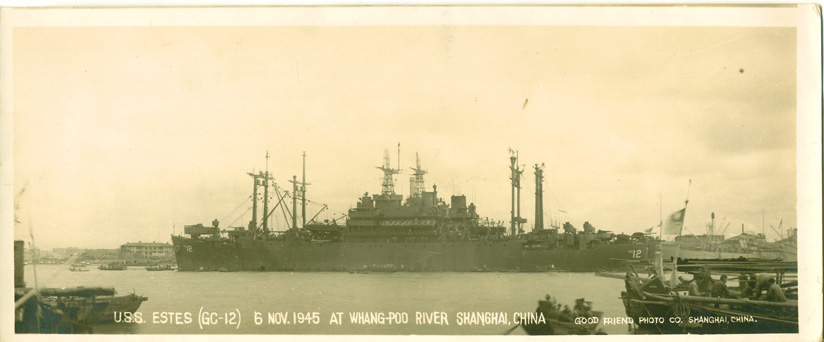 Estes at Shanghai - 1945
The ship beside the Estes is the USS Rocky Mount (AGC-3),
On 2 November ESTES took leave of Manila and set course for Shanghai to become the flagship of ADM Thomas C. Kincaid, USN, Commander Seventh Fleet, breaking his flag 7 November. At the same time, RADM Davis transfered his staff to USS ROCKY MOUNT (AGC-3). On 19 November ADM Kincaid left the ship and VADM D.E. Barbey, USN, shifted his flag to ESTES.
---
Submitted by Richard Long for Robert G. Long
Long Robert G, Lt JG - Map Reproduction - 1944-1946 - - Submitted 3/15/07
Please add my Dad to your roster of USS Estes crew. He has great memories of service aboard her from late 1944 until early in 1946.

Thanks
Richard Long


Name: Robert G. Long
Rank: Lt. j.g.
Division: Map reproduction
Years of service: 1944-1946
Lives in Knoxville, TN (2007)
Contact: Son - richard.long@wmich.edu
---
Frank Baillie 1948-52 - Lt - Submitted 6/8/07
1945 Weather Crew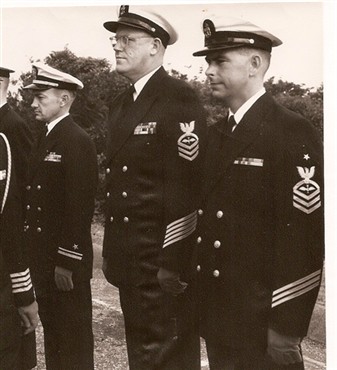 I was stationed with the pictured Neil Opstad in 1958-59 Japan. He was near retirement as a CPO & I was an E-8 (Senior CPO) at Fleet Weather Central Yokosuka Japan. He was on my shift & it felt funny who was a Navy weatherman when I was a Junior in HS. After retirement he lived in various places in Europe with his Swedish wife Inga. He was in Southern Spain when I was assigned to Fleet Weather central Rota Spain & we playerd golf together a few times. When I got out we corresponded a bit, sent him a pkg of paper back books he wanted & after a month or so Inga wrote saying that he had passed away. Strange coincidence JR Cutter (62 ZLDO LT, Met Officer on Estes just called (interrupting me on this msg) & he commented that Opstad had been commissioned (prob the 18 1/2 yr EMs (1st & Chief) to Jg program) but reverted to Chief when passed over for Lcdr. Att picture Neil in middle me to his right at Inspection.
Frank Baillie
---
Frank Baillie 1948-52 - Lt - Submitted 9/11/08
PhibGru-5 Weather Unit 15 May 1945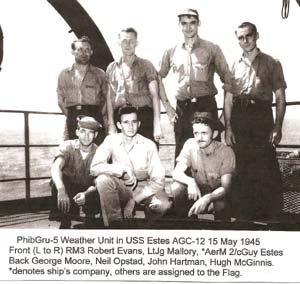 Frank
---
Submitted by Thomas DeBenedetto for John DeBenedetto
John J. DeBenedetto 1944-1946 - - Submitted 2/1/12
My Dad, John J. DeBenedetto, served on the USS Estes in World War II in 1944 and 1945. He passed away on Jan 25, 2008 at the age of 88.
I have scanned many of the items from his scrapbook.
Thank you,
Tom DeBenedetto
Life Aboard Ship

Division Photo

Division Photo

Prayer Service

Division Photo

Division Photo

Ship's Party

Religious Services

Religious Services

Panay, PI
September 2, 1945

Surrender of Japanese Soldiers

Surrender of Japanese Soldiers

Surrender of Japanese Soldiers

Sunken Ship

Sampan

Sunken Ship

Sunken Ship

Pier

Sunken Ship

Sunken Ship

Manila Bay, PI
September 29, 1945

Manila Observatory Ruins

Unknown Church
Manila, PI

Central Hotel

San Sebastian Church
Manila, PI

Cannon

Unknown Building

Unknown Building

Unknown Building

Unknown Building

First Anniversary
October 9, 1945

First Anniversary History

First Anniversary History

First Year Itinerary

Navy Day - 1945

Thanksgiving 1945

Thanksgiving Menu

Thanksgiving Menu

November 27, 1945
Shanghai, China

HMS Belfast

HMS Belfast

USS St. Paul - CA-73

Garden Bridge, Shanghai

Chinese Junk

Chinese Post Office

Nanking Road, Shanghai

Nanking Road, Shanghai

Nanking Road, Shanghai

Customs House & M&S Bank Building, Shanghai

Embankment Building, Shanghai

Grosvenor House, Shanghai

Lung Wha Pagoda, Shanghai

The Foochow Road, Shanghai

Nanking Road, Shanghai

Nanking Road, Shanghai

Park Hotel, Shanghai

The Race Course, Shanghai

USS General Scott AP-136

Chinese Junk

Shanghai at Night

Death of President Roosevelt

News of Roosevelt's Death

Roosevelt Memorial Service

Homeward Bound

Honorable Discharge

Men on Pier
---
Submitted by Daniel R. O'Connell for Daniel O'Connell
Daniel O'Connell 1944-1945 - - Submitted 12/26/12

Please add my Dad's name to your shipmates list for the USS Estes. Daniel O'Connell - served under Admiral Blandy, 1944 - 45, from commissioning until after the second visit to the Philippines in late 45. He first boarded the Estes at the Brooklyn Navy Yard in October 1944.
Dad was from Brooklyn, NY and trained at Great Lakes.
I believe he was a plank owner, having served on her first tour, and was aboard at both Iwo Jima & Okinawa.
He piped ashore October 13, 1987.
He would frequently tell us of his days on the Estes, and after the war on the Salerno Bay, CVE 110.
He left the navy in 1947, married my mom in 50, and moved to Connecticut in 55. Mom is still aboard, but seems to have misplaced the few pictures I remember him having from the war.
I have attached one picture I have - he is the forth from the right in the top row. I also attached a copy of their itinerary from 44 - 45.
Thank you,
Daniel O'Connell (son)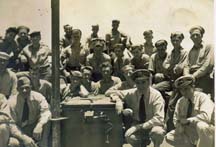 Daniel O'Connell
Top Row - 4th from Right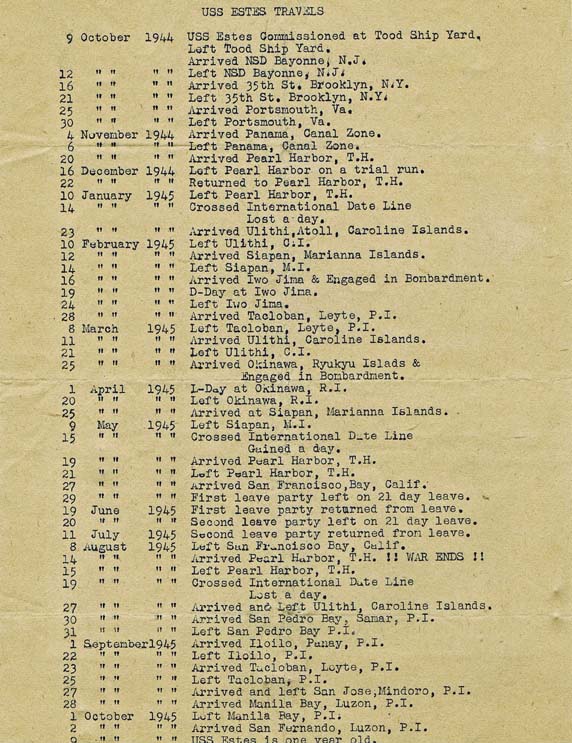 USS Estes Itinerary Oct 1944 - Oct 1945
---
Submitted by Matthew Thibeault for Joseph Thibeault
Joseph Thibeault 1945 - - Submitted 11/14/12
Hello,
The first picture is of my grandfather, Joseph Thibeault who was on board in 1945. I'm not sure where the photo was taken. The second picture I think is off Iwo Jima? My grandfather died on March 20th, 1990. I miss him terrible.
Thought you might want these.
Matthew Thibeault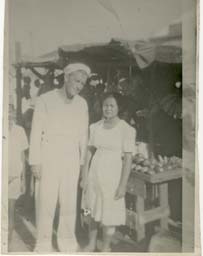 Joseph Thibeault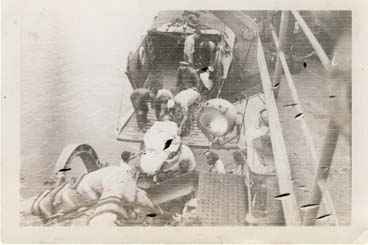 Working in LCVP
---
Submitted by Mark Miranda for Robert Anthony Miranda
Robert Anthony Miranda 1945 - - Submitted 5/22/14
Birth: 13 Nov,1926 in Brooklyn New York
Death: 22 May,2011 in Suffolk County, New York, USA
Mark Miranda
---
---
Send any photos of the Estes, or life and times while aboard.
We prefer digital images, but can accept original photographs or documents. Originals will be returned unless you indicate otherwise. We will make our best efforts in returning things safely, since we use public carriers to return items, i.e. US Postal Service, we cannot guarantee safe returns. We would feel more comfortable if you had items scanned into digital images.
For details on how to send photos or info - Click on a Ship
---
Continue to 1946
Back to 1944
Return to History in Photos Index
Return to USS Estes Association Home