USS ESTES AGC-12
USS ESTES ASSOCIATION HOME PAGE
USS Estes History in Photos - 1946
Submitted by Norman Lindenberg
Norman Lindenberg ETC Communications & Electronics 1944-1946 - - Submitted 5/23/06

Immediately after the war ended, we were sent to the Philippine island of Panay where among other things the ship sent a detail to take part in a Japanese surrender ceremony. The Japanese squads marched in out of the woods. They were a pretty sorry looking lot but somehow, despite their condition, those that could walk carried themselves with dignity . They turned in their weapons and were put on trucks (and in some cases ambulances) to be taken to repatriation camps. I was a member of that detail and have some documents and pictures taken that day.
---
Submitted by Robert S. Naramore
Robert S. Naramore, ETM-2 - C Div - 45-46 - Submitted 5/28/07
Robert Naramore Collection:
Bob is doing well but his memory is slipping. He found an old scrap book with photos that were taken on the Estes in 45-46.
I am scanning them and sending them to you.
Chris Hanson
Robert S. Naramore 2007 - Age 83

Crew in China - 1946

Crew in China - 1946
Robert S. Naramore, ETM-2 - C Div - 45-46 - Submitted 9/7/05
Bob (Robert) Stevenson Naramore is going to be very excited to know his name will be added to the roster of the USS Estes.
One of the proudest achievements in Bobís life was his service on the USS Estes. Every Memorial and Veterans Day he puts his original Navy suit on; and attends the local services with the Elks and other civil organizations.
The Photo was taken for Bob by a Chinese Company while it was on the Wang Poo River in Shanghai.
---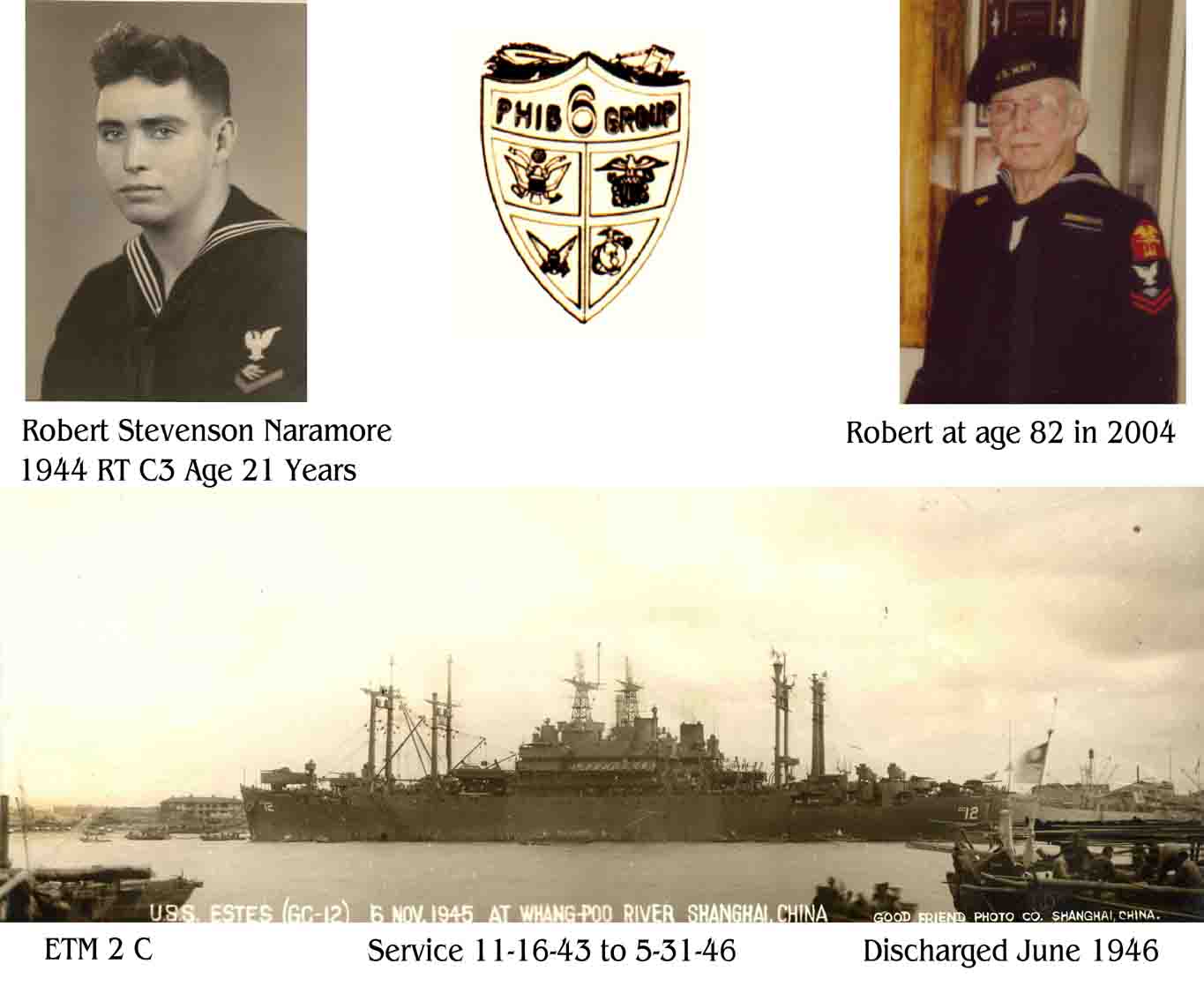 ---
Robert Naramore
131 E. Greystone Ave
Monrovia Ca. 91016
(626)358-8960
1944 RT-3T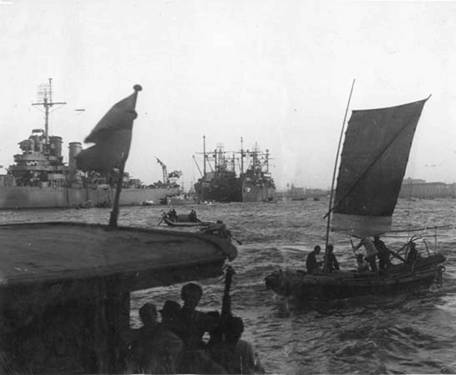 USS Rocky Mount (AGC-3) and USS Estes (AGC-12) - Nov. 1945
---
Submitted by Lewis Heaverlo
Heaverlo, Lewis, RM-3C - 1945-1946 - - Submitted 6/2/06
I was wondering if you were aware that Madame Chiang and Chiang Kai-shek were guests aboard our ship.
I remember at one time we had 2 admirals and 23 captains aboard after the 7th fleet flag came aboard. The uniform of the day was undressed blues or whites.. We arrived in Shanghai in November of 45 and I departed the ship July of 46. During that time we made only one trip to Northern China so except for that trip we were tied up at Shanghai .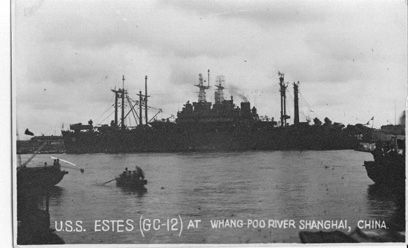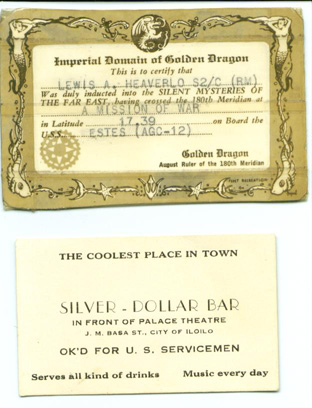 ---
Submitted by Philip Sheldon for Bernard C. Mallard
Bernard C. Mallard, Cpl - USMC - 46 - Submitted 03/21/07
My Uncle Bernard C. Mallard, U.S.M.C., Cpl., served on the Estes in 1946. I have a copy of the Christmas Menu for December 25th, 1946 with in Tsingtao, China. My Uncle passed on February 26, 2007 at the age of 85 yrs. In the last few days of his life he talked about his tour aboard the Estes.

Philip Sheldon
650-747-9425
---
Bernard C. Mallard, Cpl - USMC - 46 - Submitted 03/22/07
He related a story to me about when he served on the Estes. He was sent on a clandestine mission, with others, on the successful rescue an "America elected law maker". This individual was being held a prisoner/hostage by one of the Chinese Warlords operating in that era.
He was first in China as a contract worker with the Flying Tigers in early 1942. By July of 42' he was a private in the 23rd Airforce, 75th Squadron. He served in China until the end of WW2. Six months after the war ended he had enlisted in the U.S.M.C.. But during his WW2 years his group had been stationed at various airfields in Southern China. Because of his specific knowledge of the facility this 'law maker' was being held, his knowledge was used to guide the rescue team. I asked him who it was they rescued, he just smiled at me for the answer!
Anyway all these Great Americans of WW2 really all were heroes. My brother and I were very popular among our peers because we had an Uncle in the Flying Tigers, the stuff movies were made about!

Regards
Philip
---
Christmas 1946 Menu - Tsingtao, China
---
Poehler, Allen, - Photo Div - 1946 - - Submitted 4/10/13
I came across your USS Estes website today. My father, Allen Poehler, was a young officer on the Estes at the end of WWII. He was in charge of photography, among other things. I am sending you pictures of the day when Chiang Kai-shek visited the ship, as Lewis Heaverlo mentions on your site. I hope you all enjoy these. My dad spoke of this several times and was very proud of his service in the Navy.
He retired from the Naval Reserve in 1975 as a Captain, and died in 2008.
All the best to you,
Bill Poehler
Minneapolis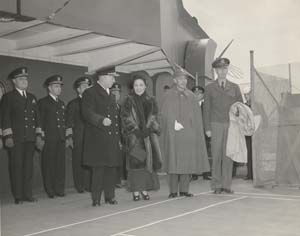 Madame Chiang & Chiang Kai-shek aboard Estes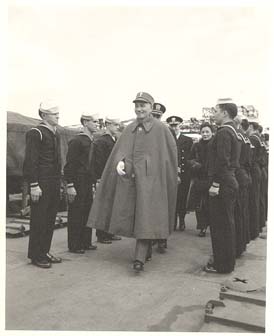 Madame Chiang & Chiang Kai-shek aboard Estes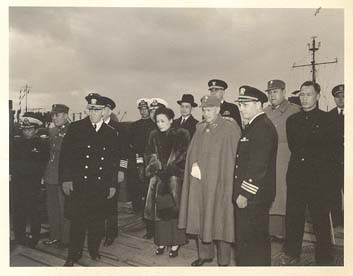 Madame Chiang & Chiang Kai-shek aboard Estes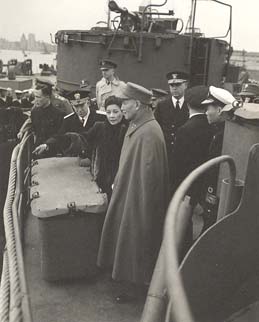 Madame Chiang & Chiang Kai-shek aboard Estes
---
Send any photos of the Estes, or life and times while aboard.
We prefer digital images, but can accept original photographs or documents. Originals will be returned unless you indicate otherwise. We will make our best efforts in returning things safely, since we use public carriers to return items, i.e. US Postal Service, we cannot guarantee safe returns. We would feel more comfortable if you had items scanned into digital images.
For details on how to send photos or info - Click on a Ship
---
Continue to 1947
Back to 1945
Return to History in Photos Index
Return to USS Estes Association Home