USS ESTES AGC-12
USS ESTES ASSOCIATION HOME PAGE
USS Estes History in Photos - 1948
Submitted by Frank Baillie
I was aboard the Estes, homeported in Tsingtao, China, from 1948 until it was relieved by the Eldorado in 1949. We carried the Flag of VADM Oscar Badger, ComNavWesPac, title changed to 7th Fleet in later years.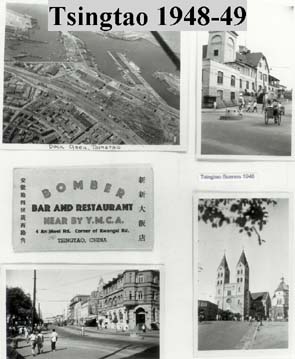 Tsingtao, China 1948-1949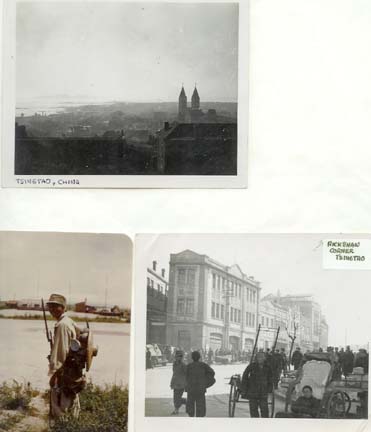 Tsingtao, China 1948-1949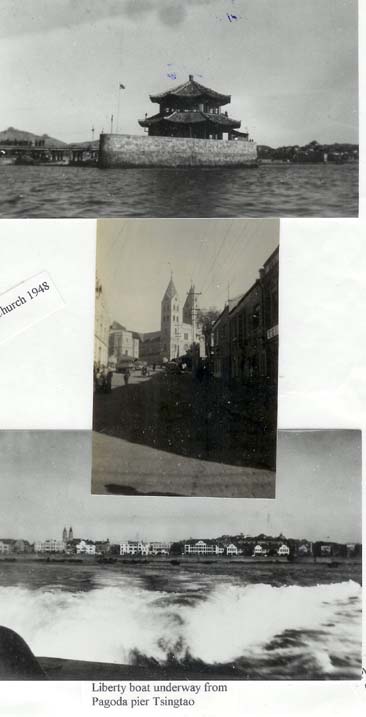 Tsing Pag Pier, 1948-1949
| | |
| --- | --- |
| Frank Baillie & Bert Kline | Leo Galang & Fred Farnsworth |
---
Submitted by John C. Clement
Clement, John C., SH-3 - S Div - 1948-1949 - - Submitted 3/16/07
I reported aboard Summer 1948 at Tsingtao, China where ESTES was flagship for Commander Western Pacific Forces. Never got underway until early 1949 when ESTES was relieved by ELDORADO AGC 11. I helped put her into mothballs at Hunters Point Naval Shipyard, San Francisco.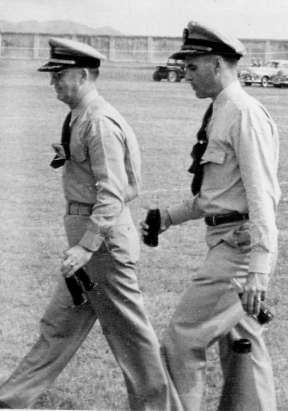 At left, Commanding Officer W.B. Davidson, Captain, USN and Executive Officer J.A. Eastwood, Commander, USN
at Tsingtao football game.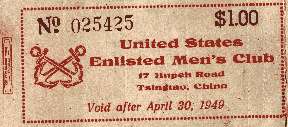 Coupon booklet for Enlisted Club at Tsingtao.
---
Submitted by Jackie Moore
Jackie Moore - - Submitted 8/7/13
Christmas Greetings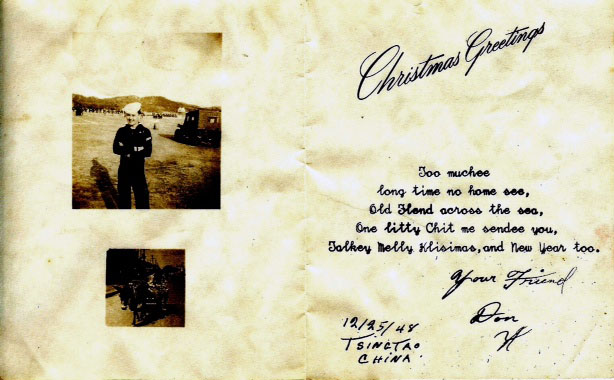 ---
Submitted by Jamie Payne
James Hubert Payne, - - 1948 - - Submitted 11/15/16

James Payne
---
James Hubert Payne 1948 - - Submitted 11/20/16
I also have some of China vintage photos when the ship was there.
---
---
Send any photos of the Estes, or life and times while aboard.
We prefer digital images, but can accept original photographs or documents. Originals will be returned unless you indicate otherwise. We will make our best efforts in returning things safely, since we use public carriers to return items, i.e. US Postal Service, we cannot guarantee safe returns. We would feel more comfortable if you had items scanned into digital images.
For details on how to send photos or info - Click on a Ship
---
Continue to 1949
Back to 1947
Return to History in Photos Index
Return to USS Estes Association Home