USS ESTES AGC-12
USS ESTES ASSOCIATION HOME PAGE
USS Estes History in Photos - 1949
Submitted by Frank Bailie
Frank Baillie 1948-52 - Lt - Submitted 4/02/07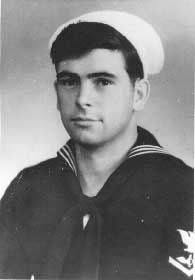 Frank Baillie - 1949
I was aboard the Estes, homeported in Tsingtao, China, from 1948 until it was relieved by the Eldorado in 1949. We carried the Flag of VADM Oscar Badger, ComNavWesPac, title changed to 7th Fleet in later years.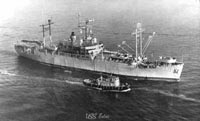 When Korea broke out I went back to sea on Estes in 51 as the Amphibious Forces flagship, we relieved the Mt McKinley at Inchon not too long after the invasion. We were relived (don't recall name of the ship (maybe Eldorado again) & went stateside into the Mare Island Naval Shipyard for alterations made to serve as Operation Ivy Flagship.
When Ivy was over I had orders to Eldorado & back to Korea/ Japan. Weather office was on the 03 level just aft of the CO stateroom & galley which abutted the bridge.
We were in the N division (Navigation) with the QMs & Signalmen.
Frank Baillie
---
Frank Baillie 1948-52 - Lt - Submitted 4/02/07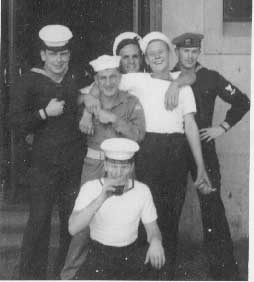 China Fleet Club photo was taken when I was aboard Eldorado just before we went to Shanghai where the Weather gang got TAD for two weeks at Fleet Weather there (no duties just liberty).
US forces evacuated in May of 49 & we also carried the entire complement of wether guys from Fleet Weather & Kang Wan (or was it Kai Tak? airfield).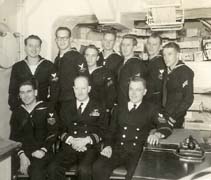 Group in the office was during Korea (prob 1951) I'm the 1st class sitting at left.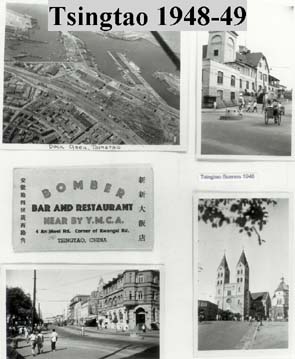 ---
Frank Baillie 1948-52 - Lt - Submitted 4/03/07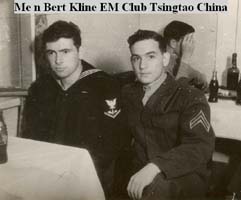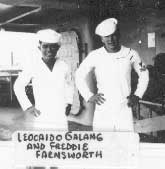 I was TAD from Estes to the Marine Air Station Tsangkou (just inland from Tsingtao) for 8 months. Bert Kline was a Marine weather guy & we were buddies. I had just made 3rd class (1948). Other picture is AG2 Freddie Farnsworth who flew up from Guam to Tsingtao with me for duty aboard Estes, (he retired as a Lcdr). Leo Galang , the Filipino guy was the CO's Steward (CO stateroom & galley just forward of our office & used to hang out with us and sometimes we got left-overs from the galley of Captain Davidson (?). He was interested in what we were doing & Captain Byerly got his rate changed to Aerographer. He made 3rd at his next duty station in the PI, got a medical for tuberculosis. He and his wife visited me here in Port Orchard, WA a couple years ago. They were on a trip around the states visiting family & friends. He's in his 80s now & haven't heard from him for a couple of years.
Frank Baillie
---
Frank Baillie 1948-52 - Lt - Submitted 4/03/07
Lt. Kimberly was the Intel & Meteorology officer on Estes for PhibPac-3 during Korea.two other pix are from 48-49.
Frank Baillie

Lt. Kimberly


Tsingtao, China 1948


Tsing Pag Pier 1948
---
Frank Baillie 1948-52 - Lt - Submitted 4/14/07
I just re-read the narrative on Estes history again & it helped me to remember the tour(s) I had & DISremember a few things I THOUGHT happened. Sometime that fuzzy memory was WRONG. That history shows a lot of research & was very well written. I remember odds & ends sometimes. E. G. Some Chiefs went duck hunting (with shotguns from the ship's armory) when we were in Pusan & they took hostile fire (maybe NKs that far south?) & called off their hunting.
On the same visit I was on shore patrol & remember checking guns at the door of a large bar room. Thinking that doesn't make a lot of sense.
Did another winter time shore patrol in Kobe on a very cold night. We looked for a cup of warming coffee & when we found it in a small bar it was so strong we had add a lot of sugar to get it down.
P.S. I made AGC (Chief) in 55 & "Fearless Freddie" Farnsworth made it long before that.
---
Submitted by John C. Clement
Clement, John C., SH-3 - S Div - 1948-1949 - - Submitted 3/16/07
I reported aboard Summer 1948 at Tsingtao, China where ESTES was flagship for Commander Western Pacific Forces. Never got underway until early 1949 when ESTES was relieved by ELDORADO AGC 11. I helped put her into mothballs at Hunters Point Naval Shipyard, San Francisco.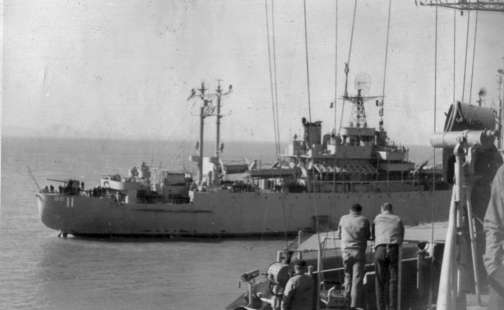 ELDORADO AGC 11 arriving to relieve ESTES.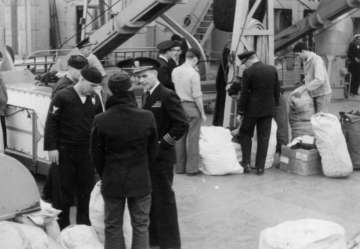 Executive Officer checking sea bags of flag staff for ESTES property as they transfer personal effects to ELDORADO.
---
Clement, John C., SH-3 - S Div - 1948-1949 - - Submitted 3/19/07
Memories of a De-Commissioning
According to my service transcript, I left ESTES in August 1949.
Your history at http://www.ussestes.org says "decommissioning on 30 June 1949."
And I was there, but I have absolutely no recollection of the event that happened over fifty-seven years ago. If I had brochures or pamphlets, they would be with my ESTES photos.
My mother saved all the letters that I wrote to her and passed them on to me several years ago. On 8 July 1949, I wrote: "On the 30th of June the Estes was officially put out of commission and is now no more. Everyone was transfered to new assignments on that date, except for a few of us in the Supply Department. We must stay to finish up all the last minute details, probably until 31 July."
There are a couple of things I do recall about the moth balling.
1. Highly pifferable items, like binoculars, foul weather jackets, etc, were inventoried by the Supply Department people, placed in storerooms. The doors to the storerooms were then welded shut. I recall binoculars coming in, inventoried, taken back in to the storeroom, slipped under a jacket and then right back out of the storeroom.
2. Most equipment had to be taken apart, cleaned up, preservatives added, then wrapped up in some kind of high quality wrapping paper. When time came to wrapp them up, there were parts left over. These parts went over the side.
It must have been a mess when ESTES went back in commission.
Hey, I see I wrote to mom again about ESTES on 23 Aug 1949.
"We weren't able to finish up on the Estes on the first of the month as originally scheduled - but finally buttoned her up on the 15th after the Pacific Reserve Fleet inspector's approval. Cuss 'em."
"Here we were, trying to do the work of storekeepers when only one of us was qualified for that type work, and he had to work on the accounts so he wasn't of much help. There was I, a laundryman, the Chief Cook, a Baker First Class, two cook strikers, two storekeeper strikers, plus two Supply Officers."
"What I am driving at is here we were, trying to do the work the way the inspectors wanted it, when none of us knew what we were doing. We would never know we were doing anything incorrect until we were finished - when the inspectors then informed us of that fact. Nine times out of ten, we had to do it all over again."
"On the sixteenth of July 1949 we were relieved of our burden. Each of us got thirty days leave with order to report back to the Receiving Station at Treasure Island, San Francisco."
---
Send any photos of the Estes, or life and times while aboard.
We prefer digital images, but can accept original photographs or documents. Originals will be returned unless you indicate otherwise. We will make our best efforts in returning things safely, since we use public carriers to return items, i.e. US Postal Service, we cannot guarantee safe returns. We would feel more comfortable if you had items scanned into digital images.
For details on how to send photos or info - Click on a Ship
---
Continue to 1950
Back to 1948
Return to History in Photos Index
Return to USS Estes Association Home