USS ESTES AGC-12
USS ESTES ASSOCIATION HOME PAGE
USS Estes History in Photos - 1952
---

1952 Cruise Book (1st anniversary)
Submitted by Ed Bishop
---
Submitted by Hal Bogin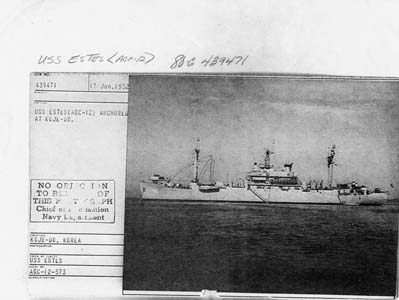 ---
Submitted by Robert Datwyler
Robert Datwyler SN 1952-1953 - - Submitted 11/17/06

My name is Robert Datwyler I served on the USS Estes from 9 Jan 1952 to 12 June 1953. Discharged as a SN and was in the 1st Division. Received the Korean Service Medal and United Nations Service Medal and Certificate of Participation For Operation IVY.
Reading through the web site of what we remember while on board really brought back memories to me. Standing on the bow of the ship while underway miles and miles away from home,off duty time on the island of Japtan, friendship with fellow shipmates, liberty in Japan and Hawaii at the young age of 23.
I'm now 77 and retired for 10 years and from time to time still think back to those days aboard the Estes.
Thank you for the web site.
Bob Datwyler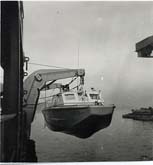 Captain's Gig
2/21/52 - Yokosuko, Japan
Submitted by Robert Datwyler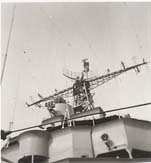 Ship's Bridge
2/21/52 - Yokosuko, Japan
Submitted by Robert Datwyler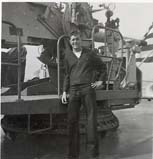 Datwyler Battle Station 5"-38
2/21/52 - Yokosuko, Japan

Submitted by Robert Datwyler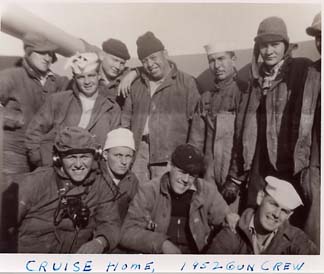 Gun Crew - Cruise Home
1952
Submitted by Robert Datwyler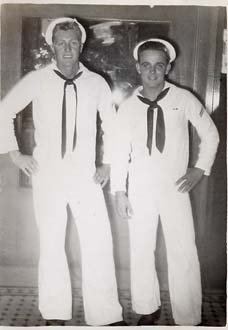 Datwyler & Shipmate on Liberty
November 1952 - Pearl Harbor
Submitted by Frank Baillie
Frank Baillie 1948-52 - Lt - Submitted 4/02/07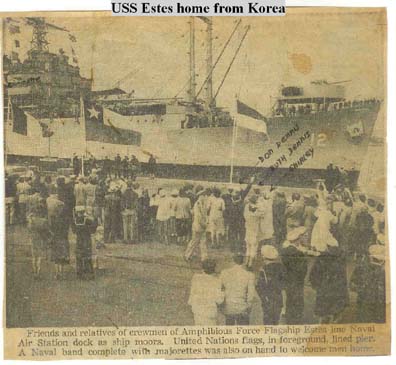 This is when Estes returned to San Diego from Korea/ Japan. There is an arrow pointing to my wife Shirley (an AG2), my friends Don Dennis then an AG1 & his wife (got out at convenience of the government was an AGAN). Don got commissioned ret as a LCDR. I'm the only one of the four still around. Were any of you aboard when I was there (48 to 49 China evacuation, 51 to 52 Korea-Japan & operation Ivy.
Frank Baillie
xwxguynavy@wavecable.com
---
Frank Baillie 1948-52 - Lt - Submitted 4/03/07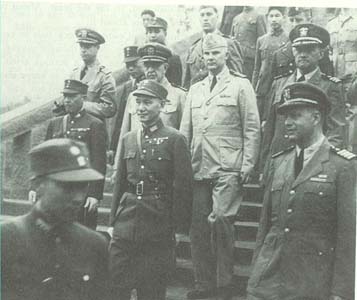 The ComNavWesPac Intelligence & weather officer on Estes was Captain Irwin Forest Byerly who was the CO of SACO, Naval Group China, during his previous tour (having relieved then RADM Miles). He's the guy in lower right hand corner in gray uniform. Yes that's Chiang Kai Chek in the middle of the picture.
Frank Baillie
---
Frank Baillie 1948-52 - Lt - Submitted 4/12/07
I was an AG1 (weather) aboard USS Estes, the Navy flagship for Operation "Ivy" at Eniwetok atoll, Mike H-test with an A bomb "trigger"& two a-bombs (or was iit only one?)
I was working ashore at that time of the A-bomb test as an AG1 section leader of a split AF/ Navy section. I was off duty & sitting on the beach with my back to the "shot" site, sans smoked glasses. Seems to me we were ordered to close our eyes as well. Loudspeakers gave us explicit orders & a count down. The whole atoll "vibrated" at the blast. I felt like I was on a quivering flag pole.
I returned to Estes for the BIG ONE. An AF LtCol took me to the signal bridge for the H test where we found assorted scientists, military big wigs & others. The LtCol & I were to record various angles on the bomb's mushroom cloud using a pelorus (a sighting device to obtain bearings; usually for navigation purposes). The LtCol & I had a very good vantage point. We donned HEAVILY smoked glasses prior to the count down & were warned to close our eyes before the blast until informed by loudspeaker that it was safe to look. Even wearing the smoked glasses & with my eyes closed I still experienced a bright glare for several seconds. It was a VERY impressive experience & the instant 8 mile wide, multi colored, monstrous, skirted, cumulonimbus (thunderstorm cloud) was even more so as it immediately roared toward the stratosphere. One could see the shock wave travel across the sea toward us. The scientist biggies seemed to be very surprised at the size of it & acted like fans at a football game.
When the H-burst-cloud subsided, an overcast, mid cloud deck took its place & we got some mildly (?) radio-active rain. I inadvertently stepped into a puddle in front of the balloon shack aft on the 03 level & acquired a low level Geiger counter reading from that one shoe. All hands carried a Dosimeter card which could be checked for radiation exposure.
---
Frank Baillie 1948-52 - Lt - Submitted 4/14/07
I just re-read the narrative on Estes history again & it helped me to remember the tour(s) I had & DISremember a few things I THOUGHT happened. Sometime that fuzzy memory was WRONG. That history shows a lot of research & was very well written. I remember odds & ends sometimes. E. G. Some Chiefs went duck hunting (with shotguns from the ship's armory) when we were in Pusan & they took hostile fire (maybe NKs that far south?) & called off their hunting.
On the same visit I was on shore patrol & remember checking guns at the door of a large bar room. Thinking that doesn't make a lot of sense.
Did another winter time shore patrol in Kobe on a very cold night. We looked for a cup of warming coffee & when we found it in a small bar it was so strong we had add a lot of sugar to get it down.
P.S. I made AGC (Chief) in 55 & "Fearless Freddie" Farnsworth made it long before that.
---
Submitted by Robert Datwyler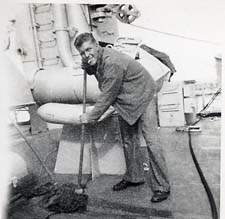 Datwyler Swabbing the Deck
12/52 - San Diego
Submitted by Robert Datwyler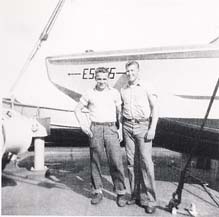 Datwyler & Shipmate
12/52 - San Diego
Submitted by Robert Datwyler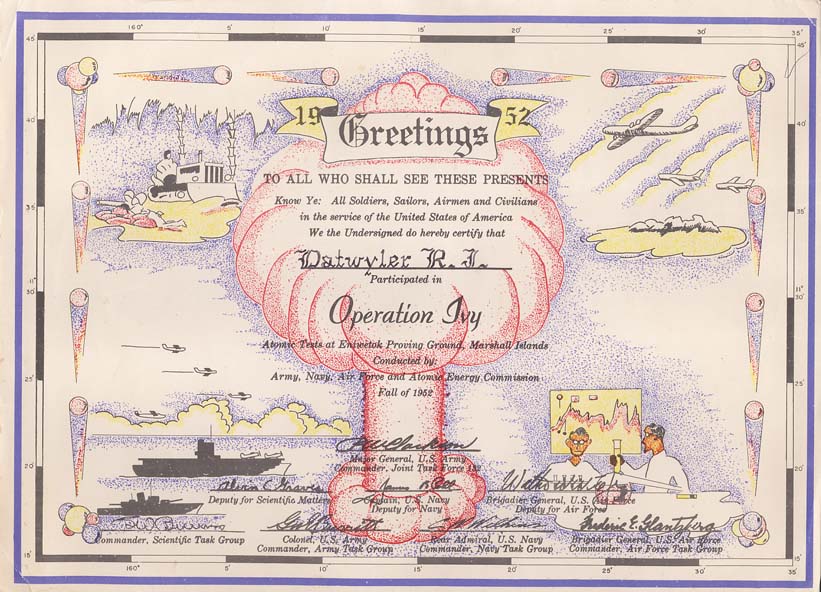 Operation IVY Certificate
Fall 1952
---
Send any photos of the Estes, or life and times while aboard.
We prefer digital images, but can accept original photographs or documents. Originals will be returned unless you indicate otherwise. We will make our best efforts in returning things safely, since we use public carriers to return items, i.e. US Postal Service, we cannot guarantee safe returns. We would feel more comfortable if you had items scanned into digital images.
For details on how to send photos or info - Click on a Ship
---
Continue to 1953
Back to 1951
Return to History in Photos Index
Return to USS Estes Association Home