USS ESTES AGC-12
USS ESTES ASSOCIATION HOME PAGE
USS Estes History in Photos - 1963
Submitted by Larry Morris
Larry Morris BM-3 1st Division 1961-1963 - - Submitted 12/28/06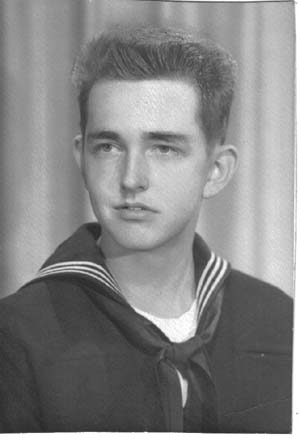 Larry's Navy Photo - 1959
Memories of Almost Going to the Atlantic
I served aboard the ESTES from 1961 thru 1963. Went to the Worlds Fair in Seattle. Also went to Portland, OR for the Rose Festival. Remember when we arrived there and unloaded the cars and everyone had just gone on shore/leave. Hadn't stopped sweating from unloading when JFK came on the ship's intercom announcing the Cuban Crisis. We started loading the ship back up with only 1/3 of the crew and headed back to San Diego to take on supplies and head for Cuba. Our sister ship, The Eldorado, beat us in by one day and had to go instead. Whew!
On our way to Pearl Harbor, I remember coming up on a Sailboat with Lee Quinn and his all girl crew. I thought the ship was going to capsize when a female crewmember of Quinn's asked "Is there anything we can do for you?". That would have been a good time for one to abandon ship - just a few days from Hawaii and to be rescued by an all girl crew of a small sailboat. Wish I had had a camera - if anyone has pictures, please share them.
I now live in Dallas, TX and sell business forms and office products.
HAPPY NEW YEAR,
Larry
Larry@MorrisBusinessProducts.com
---
Submitted by Albert G. Krohn
Albert G. Krohn SN 2nd Division 1961-1963 - - Submitted 7/19/11
I recently came across a few newspaper clippings I've had tucked away. They are from various newspapers (I don't remember what newspapers) from January 1963. I was aboard the Estes at the time and definately remember this exciting event. Thought you may like to include them in the Crews Contribution section of Estes Association Page.
Albert G. Krohn
USS Estes
2nd Division
1961-63
---
Withers,Dan, SN - OE Div - 1963-64 - - Submitted 2/18/14
Dan Withers – SN, from Salem, Oregon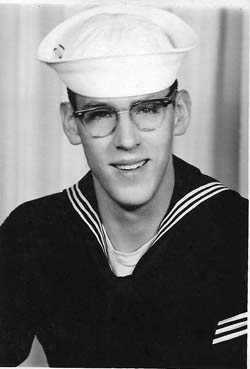 At the end of boot camp when orders were handed out I was shocked to see that I was headed to the fleet and not ETA School as promised. I went to the USS Estes, AGC-12 instead. She was in dry dock at the Long Beach Naval Shipyard. It turns out I was on a 6 month program called Pre School Indoctrination.
After several months in 1st Division running a paint chipper and painting I was whisked away to OE Division where my duties changed to compartment cleaner and colonel of the urinal. Then the bad hand of a card draw (Ace of Spades) sent me to Chiefs Mess for 2 months of Mess Cooking. That was fun and I had great food.
In the last month of the tour one of the ET-2s discovered I was a ham radio operator and knew how to operate a voltmeter and oscilloscope, so I became his personal gofer as we worked on the new SPS-30 radar system being installed.
The radar was located directly above the 6-71 engine run up stand. I can still hear those engines screaming.
The other thing I remember is watching the Beatles on the Ed Sullivan show debut on the black and white TV somewhere. That was just 50 years ago.
On July 10, 1964 I reported to Treasure Island and continued with ETA school. Following that school I went to the USS Stoddard, DD-566.

Orders to USS ESTES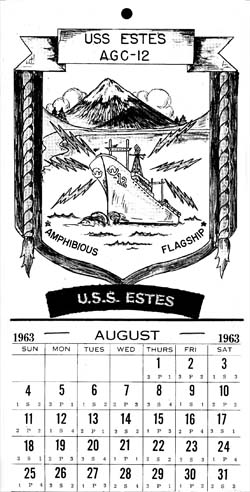 USS Estes AGC-12 1963 Calendar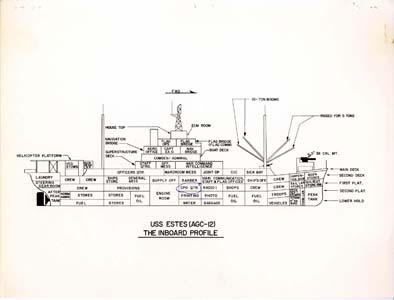 Estes Layout
USS Estes Christmas Card
Christmas Menu
25 December 1963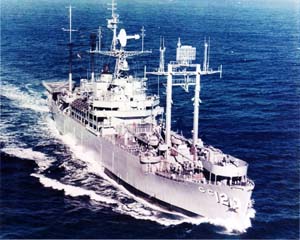 Estes Underway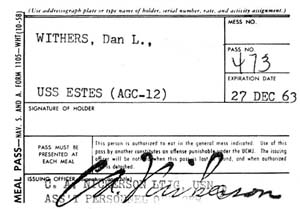 Meal Chit for use at base galley, while Estes galley closed
Meal Chit
---
---
Continue to 1964
Back to 1962
Return to History in Photos Index
Return to USS Estes Association Home