USS ESTES AGC-12
USS ESTES ASSOCIATION HOME PAGE
USS Estes History in Photos - 1964
Withers,Dan, SN - OE Div - 1963-64 - - Submitted 2/18/14
Dan Withers – SN, from Salem, Oregon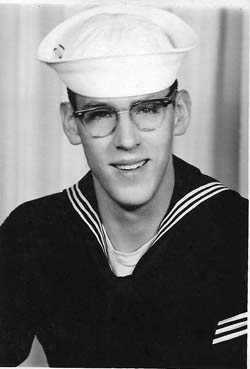 At the end of boot camp when orders were handed out I was shocked to see that I was headed to the fleet and not ETA School as promised. I went to the USS Estes, AGC-12 instead. She was in dry dock at the Long Beach Naval Shipyard. It turns out I was on a 6 month program called Pre School Indoctrination.
After several months in 1st Division running a paint chipper and painting I was whisked away to OE Division where my duties changed to compartment cleaner and colonel of the urinal. Then the bad hand of a card draw (Ace of Spades) sent me to Chiefs Mess for 2 months of Mess Cooking. That was fun and I had great food.
In the last month of the tour one of the ET-2s discovered I was a ham radio operator and knew how to operate a voltmeter and oscilloscope, so I became his personal gofer as we worked on the new SPS-30 radar system being installed.
The radar was located directly above the 6-71 engine run up stand. I can still hear those engines screaming.
The other thing I remember is watching the Beatles on the Ed Sullivan show debut on the black and white TV somewhere. That was just 50 years ago.
On July 10, 1964 I reported to Treasure Island and continued with ETA school. Following that school I went to the USS Stoddard, DD-566.

Orders to USS ESTES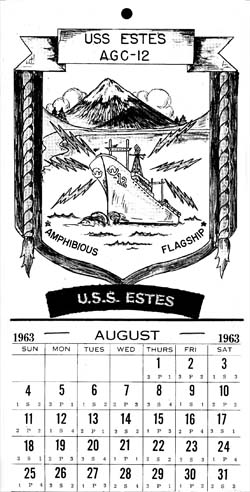 USS Estes AGC-12 1963 Calendar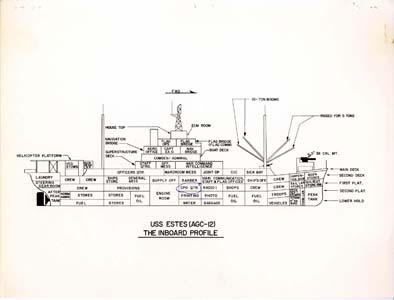 Estes Layout
USS Estes Christmas Card
Christmas Menu
25 December 1963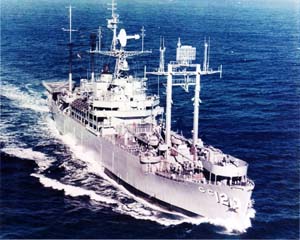 Estes Underway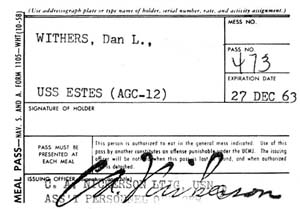 Meal Chit for use at base galley, while Estes galley closed
Meal Chit
Palm Sunday Protestant Services
22 March 1964
Plan of the Day
23 January 1964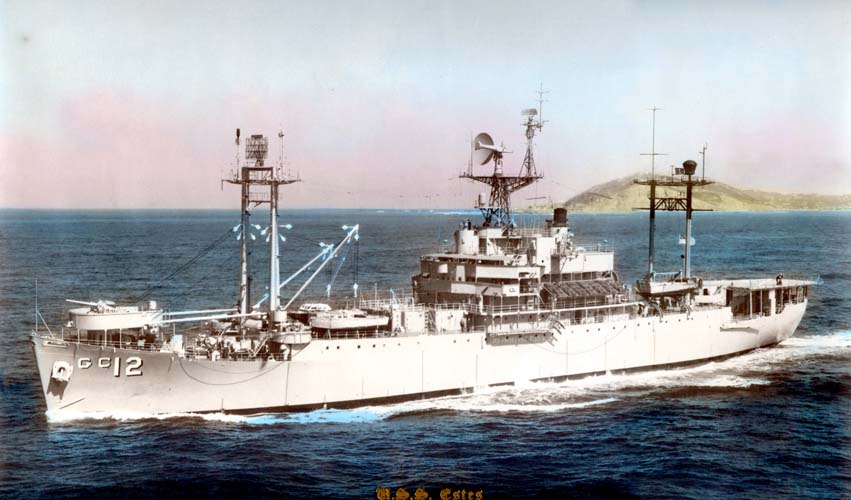 ---
Send any photos of the Estes, or life and times while aboard.
We prefer digital images, but can accept original photographs or documents. Originals will be returned unless you indicate otherwise. We will make our best efforts in returning things safely, since we use public carriers to return items, i.e. US Postal Service, we cannot guarantee safe returns. We would feel more comfortable if you had items scanned into digital images.
For details on how to send photos or info - Click on a Ship
---
Continue to 1965
Back to 1963
Return to History in Photos Index
Return to USS Estes Association Home