USS ESTES AGC-12
USS ESTES ASSOCIATION HOME PAGE
USS Estes History in Photos - 1965
---

1965 Cruise Book
Submitted by Rich Cherry
---
Submitted by P.J. (Rick) Burke
Burke, P.J. (Rick), YN-3 - OI Div - 1964-1966 - - Submitted 5/18/07
I am reminded of my Navy time on board the Estes every year when the 4th of July rolls around. It was July 4, 1965 and I was standing the mid watch on board the Estes while anchored in DaNang harbor. Probably the last thing in the world I wanted to do. Suddenly the sky lit up over the Marine Air Base on shore with one explosion after the other. Shortly thereafter planes were airborne and dropping parachute flares to light up the night in an attempt to locate the Viet Cong infiltrators. This fireworks display continued for at least an hour or more. I felt like I was having my own 4th of July fireworks display.
I later found out that the Viet Cong had indeed infiltrated the perimeter of the base and exploded several planes. This was considered a major blow at the time and was one of the more significant events of the war up to that point. I recall reading about it on various occasions after that. In fact, it was even mentioned in the Milwaukee Sentinel in the "25 years ago" segment in 1990.
Any fireworks display since then pales in comparison.
---
Submitted by Pat Burns
Pat Burns Seaman 1st Division 1964-1966 - - Submitted 12/07/05

Recollections of the good day on the Estes
I remember the hot nights on the Asian seas and standing at the bow, of the ship as she rose and fell back to the ocean, with the porpoises swimming close to the bow. It was so peaceful at that time. It was a time to think of family and friends back home.
I remember the movies on the fantail and if you were not careful the Snipes would blow the tubes and soot would fall all over you.
I also remember when, after being out on the firing range, at San Clemente Island, we did not have Flag aboard, and were waiting at night for daybreak so the tugs could bring us in. There were several ships we had been maneuvering with that had seniority over our captain and we dropped our anchor just a few feet under water and slowly moved, all night, to near the front of the convoy and was taken in a lot earlier then we should have and the captain got chewed out big time.
God Bless the USS Estes AGC-12
Pat Burns
Seaman 1st Division
1964-1966
---
Submitted by Joseph (Joe) Mendiola
Joseph (Joe) Mendiola RM2 OR Division 1964-1966 - - Submitted 9/13/07
09/14/07...By sheer curiosity I "goggled" the USS Estes AGC-12, and got your website. Still curious I got your Email and would like to introduce myself:
Joseph (Joe) Mendiola RM2. Was on board 64-66 under the OR Division.
I remembered Louie Hookland, RM3 and Robert (Bob) Parkhurst (RM1). Went on liberty at Qui Non twice, Vietnam south of Danang.
We pulled the first amphibious landing in Nam in the Vung Tau Peninsula. I think we did so later also at Chu Lai. Still have my "Tour" Book with all its pictures.
Would like to correspond with anyone and compare notes. Might hook up with others. Sure would be real great to do so. Can't remember everyones names right off.
I am from Guam (U.S. Territory, Southernmost of the Marinas Island). Any of you guys who is a WWII war buff would know where that is right away.
So, let me know if you want to chat. OK?
My Email is tandabot@yahoo.com,
PH: (671) 632-9235,
Address: PO Box 21465,
Barrigada, Guam 96921
---
Submitted by Ken Krouse
Ken Krouse SF-3 1965-1966 - R Div - Submitted 1/19/11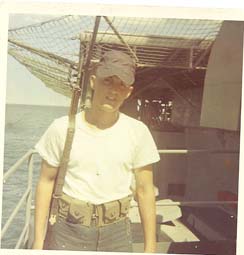 Ken Krouse
We were headed on a landing in Chu Lai! Taken before we boarded the PA boats!
---
Submitted by Dan Clark
Dan Clark ET-2 1962-1966 - OE Div - Submitted 6/29/12
Trip to WestPac and Subic Bay

BBQ


BBQ Chow Line


BBQ Chow Line


BBQ Chow Line


Entertainment


Entertainment


Members of OE Div
Top Row: Bob Radebaugh, Wayne Wise, Don Pfeifer
Bottom Row: Bill Hartnett, Charlie Porter, John Bachisn


Members of OE Div
Top Row: Bob Radebaugh, Murray, Don Pfeifer
Bottom Row: Bill Hartnett, Dan Clark, John Bachisn


Dan Clark


Entering Subic Bay
And the fun started!
---
Chu Lai and DaNang

Dan Clark


We learned to sleep when and where we could


Guided Missile cruiser off in the distance

Helocopter trip from Chu Lai to DaNang to repair Marine radio.


Iím sitting on a canvas seat with my tool box tucked underneath
Wonder what the effects would be if I took a round in that tool box?


Captain Spaete and Lt. Johnson
And the fun started!
---
Send any photos of the Estes, or life and times while aboard.
We prefer digital images, but can accept original photographs or documents. Originals will be returned unless you indicate otherwise. We will make our best efforts in returning things safely, since we use public carriers to return items, i.e. US Postal Service, we cannot guarantee safe returns. We would feel more comfortable if you had items scanned into digital images.
For details on how to send photos or info - Click on a Ship
---
Continue to 1966
Back to 1964
Return to History in Photos Index
Return to USS Estes Association Home