USS ESTES AGC-12
USS ESTES ASSOCIATION HOME PAGE
USS Estes History in Photos - 1967
---
Submitted by Richard Draves ET3
Rich Draves, ETR3 - CE Div - 66-67 - Submitted 9/5/07
Dependent Cruise '67
I was aboard the Estes, when we took dependents from San Diego to Bremerton in 1967.
We had just returned from WestPac and were to then undergo an overhaul. Rather than leave dependents in San Diego, we used our spaces to load Autos and Family and took them along.
---
Submitted by Richard Draves ET3
Rich Draves, ETR3 - CE Div - 66-67 - Submitted 11/14/05
When Estes was undergoing an overhaul at Bremerton, WA in 1967, most of the electronic equipment had been removed from the ship. Taken for its own overhaul at the local Electronics Shop. This left the ETs with little to do. In true Navy fashion, "When there is nothing to do - go chip paint!"
I can remember still, being on the after kingpost with pneumatic hammers chipping paint (and then repainting) early on crisp mornings, especially at high tide. From the top of the kingpost, Mt. Ranier would majestically appear from behind the local hills.
It was beautiful!
---
Shipmates
Submitted by Charlie Porter ETN2
| | | |
| --- | --- | --- |
| Bob Radebaugh | Charlie Porter & Don Piefer | Charlie Porter & Steve Burke |
| Doug Perault | Perault, Ben Laturperissa, & John Brown | |
---
John Chadwell, RM3 - - 66-68 - Submitted 12/2/05
I was aboard when the ship was in Bremerton Naval Shipyard - 1967. I was one of a few dozen radiomen aboard ship, and I remember looking down at four smaller vessels that were in front of the Estes, and we found out that there were radiomen and CTs onboard. Some of us thought that would be swell duty, only to find out several months later that one of those ships was USS Pueblo. I was on watch the night she was taken by the North Koreans. I believe we were about 600 miles from the Pueblo when she was captured.
---
Robert V. Cummings - E Div - 1967-1968 - Submitted 02/17/09
Cummings on Deck

unknown, Gary Ledsworth,
Mike Amanda in Berthing Area

USS Estes Boat Deck

Re-fueling at Sea

Looking Forward

Mike Amanda, Gary Ledsworth, Cummings
when Cummings made 3rd

USS Estes at Torpedo Station

Cummings at Manila, PI

Cummings at Space Needle

Cummings near Signal Lamp

En-3 Miller on Helo Deck

Cookout on Deck

Cummings on Helo Deck

Looking Forward

Cummings at Bataan or Coregador

Cummings Coming Aboard

USS Estes Gangway

USS Estes Landing Craft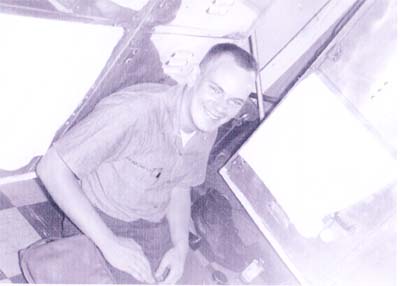 Cummings Shining Shoes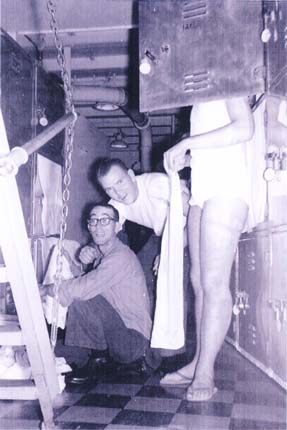 Gary Ledsworth in Berthing Area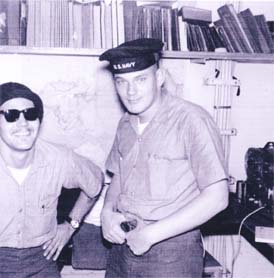 Cummings Clowning with EM-3 Lund
---
Rich Draves, ETR3 - CE Div - 66-67 - Submitted 5/22/09
Photos from Westpac 1966
Operation Deckhouse V

Operation Deckhouse V

Mud from Mekong River Delta, Vietnam
Operation Deckhouse V

Underway Replenishment
USS Sacremento AOE-1

Underway Replenishment
USS Sacremento AOE-1

An Albatross in the Rigging

Philippines to San Diego

Ernie Shriner, Cliff Otto, John Liebig, & Rocky Collins
Waiting for Arrival of USS Eldorado

Arrival of USS Eldorado AGC-11

Alava Pier
Subic Bay, PI

NDWE - Destination USA

Manning the Rail
Leaving Subic Bay, PI

Departing Alava Pier
Feb 1967

BBQ -After Boat Deck - Feb 67

BBQ -After Boat Deck - Feb 67

BBQ -After Boat Deck - Feb 67

BBQ -After Boat Deck - Feb 67
Ernie Shriner & Rich Draves

Waikiki Beach, HI

Waikiki Beach, HI

Arrival of USS Estes at San Diego
---
Rich Draves, ETR3 - CE Div - 66-67 - Submitted 5/27/09
Avoiding an Accident
In '67 we were in the shipyard in Bremerton. My job was to chip the paint from the top of the after kingpost. At quitting time when I went back down the kingpost, I noticed the signal arm had been cut from the post and was hanging in a sling on the inbound side and from the stabilizing cable on the outbound side. So far so good, but the turn-buckle on the stabilizing cable was just about rusted through.
I went down to find my division officer and explain what I had found. He took it from there and got a yard crane to come that night and take it down. When they got the arm fastened to the crane, they lightly tapped the turn-buckle and it fell apart.
I was heartily thanked for being observant, and avoiding a serious accident.
---
Tom Hammond, LI-1 - OA Div - 66-67 - Submitted 1/13/18
My father served aboard the Estes from 1966 to 1967. I have been scanning his negatives. I came across a few pictures of a pretty decent size BBQ down along the boats 3 and 4 stations. I also have a couple pictures of the guys playing their guitars as well. I would like to submit them for the Estes Web Page so the men, who may still be around that my dad took pictures of during that time, can see them. My dad was an LI at that time. I thought maybe these pictures should be seen by the guys as well as their families and not rot away in a slide tray.
Leaving Alava Pier - Subic Bay, PI

BBQ Underway

BBQ Underway - Crew Entertainment
---
Send any photos of the Estes, or life and times while aboard.
We prefer digital images, but can accept original photographs or documents. Originals will be returned unless you indicate otherwise. We will make our best efforts in returning things safely, since we use public carriers to return items, i.e. US Postal Service, we cannot guarantee safe returns. We would feel more comfortable if you had items scanned into digital images.
For details on how to send photos or info - Click on a Ship
---
Continue to 1968
Back to 1966
Return to History in Photos Index
Return to USS Estes Association Home