USS ESTES AGC-12
USS ESTES ASSOCIATION HOME PAGE
USS Estes History in Photos - 1968

Cruise Book 1968
At Sea
Submitted by Charlie Porter ETN2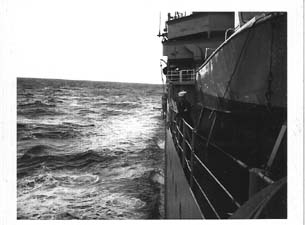 Unidentifed sailor on starboard boat deck
Da Nang Harbor 1968
Submitted by Charlie Porter ETN2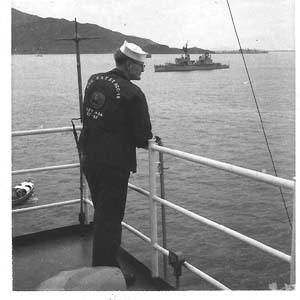 Da Nang Harbor
BBQ 1968
Submitted by Charlie Porter ETN2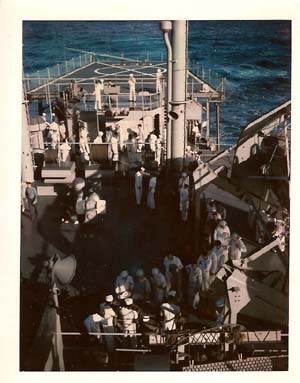 Aft Boat Deck BBQ
Return from WestPac 1968
Submitted by Charlie Porter ETN2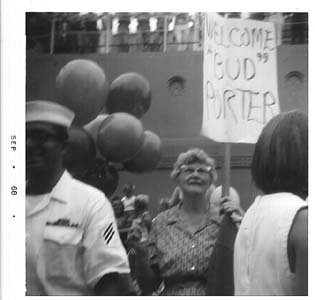 Family Greeting Estes Return August 1968
---
Mike Demarco PN-2 1967-1969 - - Submitted 7/14/08
Here are a few pictures.
| | |
| --- | --- |
| Goofing off on the 40MM mount | Anchored in Danang Harbor |
| PN2 DeMarco driving a rented jeep with the Estes in the background. Phil Parsons is in the front seat but I am not sure who is in the backseat | I am sure you recognize "Ghost", the USS Estes helo when we were the flagship |
| Front row, Personnelman Phil Parsons, Personnelman Jim Shackelford, Machinist Mate (?) Bob Bowdoin, Yoeman Mull, Back row, Personnelman Lybarger, Commissaryman Sight, Personnelman Ralph Thompson | Commissaryman Sight dropped by the Personnel office quite often. We were always glad to see him because he was a great guy and always brought cinnamon rolls. Also pictured is Personnelman Ralph Thompson |
| Front row, Mull, Thompson, Parsons, Bassett, Lybarger. Back row, unknown and Shackelford | |
---
Send any photos of the Estes, or life and times while aboard.
We prefer digital images, but can accept original photographs or documents. Originals will be returned unless you indicate otherwise. We will make our best efforts in returning things safely, since we use public carriers to return items, i.e. US Postal Service, we cannot guarantee safe returns. We would feel more comfortable if you had items scanned into digital images.
For details on how to send photos or info - Click on a Ship
---
---
Continue to 1969
Back to 1967
Return to History in Photos Index
Return to USS Estes Association Home