USS ESTES AGC-12
USS ESTES ASSOCIATION HOME PAGE
USS Estes History in Photos - 1969
Submitted by Charlie Porter
Charlie Porter, ETN2 - CE Div - 66-69 - Submitted 1/2/07
Hi Richard, Imagine after all these years I just Googled USS ESTES out of curiosity, and there was more than I thought existed. Found the USS Estes Association thru a web link, and there you where. I'm sending some pix I scanned into my computer dating from about Jan '66 thru Oct '69. That was the time I was on the Estes. And then discharged out of the Navy in Oct. 69. Picked up a surplus R-390A/URR receiver several years ago and restored it to operating condition. We had dozens of them on the Estes. I use it in my vintage ham radio shack along with other boatanchor relics from the past. Navy doesn't have ETNs or radiomen any more. The technology has radically changed. I will stop here, as I could go on for hours. Enclosed enjoy the pictures from the Estes ET shop.
My E-mail address is kg6pro@cox.net
Charlie Porter
5568 Barclay Ave.
San Diego, Ca 92120
Phone 619-286-9979
| | |
| --- | --- |
| | |
| ETN2 - Charlie Porter - 1969 | Charlie ETN2 2006 |
---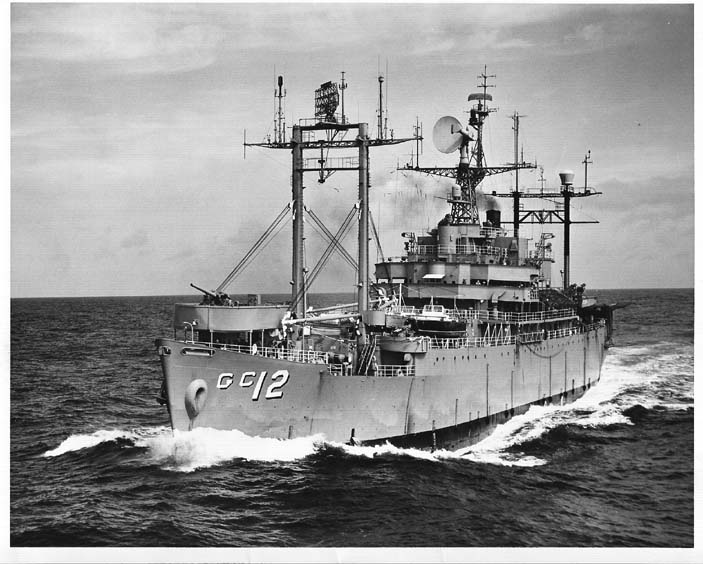 USS Estes AGC 12
---
Send any photos of the Estes, or life and times while aboard.
We prefer digital images, but can accept original photographs or documents. Originals will be returned unless you indicate otherwise. We will make our best efforts in returning things safely, since we use public carriers to return items, i.e. US Postal Service, we cannot guarantee safe returns. We would feel more comfortable if you had items scanned into digital images.
For details on how to send photos or info - Click on a Ship
---
Continue to 1970
Back to 1968
Return to History in Photos Index
Return to USS Estes Association Home